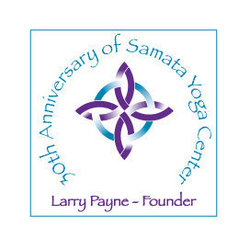 In celebration of his 30 years of contributions to the Los Angeles yoga community, Dr. Larry Payne is furthering his support of yoga therapists by creating a scholarship fund for LMU's Yoga Therapy RX program.
Los Angeles, CA (PRWEB) May 28, 2010
Larry Payne, Ph.D., internationally respected yoga teacher and back specialist today announced plans for the 30th anniversary celebration of the Samata Yoga Center (http://www.samata.com). Dr. Payne has helped thousands of chronic back sufferers and high stress professionals, and in celebration of his own contributions to the yoga community, he is furthering his support of yoga therapists by creating a scholarship fund for LMU's Yoga Therapy RX program.
The event and fundraiser will be held at Loyola Marymount University's Sculpture Garden on the upper campus at 1PM on Sunday, June 27, 2010. A vegetarian luncheon will be followed by an awards ceremony honoring outstanding individuals in the yoga community, and entertainment will include world-class vocal and dance performances. All proceeds will go to the new Payne-Chapple Yoga Therapy Rx Scholarship Fund.
Dr. Payne is author of several books on yoga, including the newly published second edition of Yoga for Dummies. He is also the founding president of the International Association of Yoga Therapists; founder of the corporate yoga program at the J. Paul Getty Museum; the first yoga teacher to offer Yoga classes at the World Economic Forum; co-founder of the yoga curriculum at The UCLA School of Medicine; and the founding director of the Yoga Therapy Rx certification program at Loyola Marymount University in Los Angeles.
The Yoga Therapy Rx certificate program at LMU is the first clinical university course of its kind in the U.S. and recognized by Yoga Alliance. Yoga Therapy Rx is the marriage between yoga therapy and complementary medicine. It is designed to train yoga teachers to become yoga therapists and apply classical applications of yoga for use in clinical settings to help treat common ailments and conditions. Participants who complete the courses will be equipped to work with various medical specialists, chiropractors, osteopaths and physical therapists.
Recipients of lifetime achievement awards at the June 27th event include Bodhi Tree bookstore founders Phil Thompson and Stan Madison; America's fitness expert Kathy Smith; and LMU Yoga Studies founder Christopher Chapple, Ph.D. Royal Ambassador Awards will be received by Professor Zhuo-Yi Qiu O.M.D.,LAc; Professor Sasi Velupillai M.A., N.D.; and Chakrapani Ullal. Recipients of the original Karma Awards for Outstanding Achievement in Integrative Health will also be in attendance.
Ticket pricing is below; event is limited to 250 guests:
General Admission: $35 includes gourmet vegetarian lunch, open seating and ceremony. Reserved tables are available for groups of 8 or more.
http://registration.xenegrade.com/lmuextension/courseDisplay.cfm?schID=739
Inner Circle: $108 includes reserved seating, gourmet vegetarian lunch, VIP Gift Bag, and Sponsorship listing on all printed programs and newsletters.
http://registration.xenegrade.com/lmuextension/courseDisplay.cfm?schID=740
Silver Circle: $500 includes reserved table for 4 guests, gourmet vegetarian lunch, VIP Gift Bag, and Sponsorship listing on all printed programs and newsletters.
http://registration.xenegrade.com/lmuextension/courseDisplay.cfm?schID=741
Golden Circle: $1008 includes reserved table for 8 guests, gourmet vegetarian lunch, VIP Gift Bag, and Sponsorship listing on all printed programs and newsletters.
http://registration.xenegrade.com/lmuextension/courseDisplay.cfm?schID=742
Notes:

VIP Gift Bag will include: Epicuren skin care products, Miracle Lips from Holocuren, Yoga for Dummies, "Yoga Unveiled" documentary DVD set, HBlueOWater
Please make checks payable to: Loyola Marymount University
Main Sponsor: Chandni Vegetarian Indian Restaurant

1909 Wilshire Blvd., Santa Monica, CA - 310.828.7060
Co-Sponsors:

Epicuren Skin Care
HBlueOWater
Miracle Lips
Rainbow Acres
Wiley Publishing
Yoga Month
Yoga Unveiled
# # #