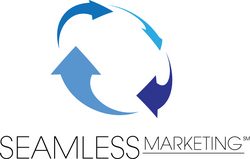 San Diego, CA (PRWEB) June 7, 2010
Seamless Marketing, a San Diego County-based multivendor collaboration, today announces a single source of managed solutions for today's high-impact, fast-paced mobile and text messaging market, public relations, 3-D modeling/design and multimedia world.
The collaboration, comprised of four unique companies, provides a managed, single point of contact for prepackaged and flexible marketing services in graphic design, content creation, large-format imaging, web design and 3-D modeling and design. Other areas of expertise include include mobile and text message marketing, copywriting and editing, social media, marketing communications and signage.
One-stop-shop solution packages currently includes include, "New Product Launch," "Brand/Identity," "Media/Press Kit" and "Trade Show," as well as "Worldwide Visualization Services", with additional packages under development. Seamless Marketing can also rapidly develop custom-tailored solutions or new bundled packages for any size customer, anywhere, in any language, business or industry.
Seamless Marketing augments a firm's existing staff or provides complete managed marketing solutions so a company's current employees can get more done. Companies receive maximum value for their marketing dollars so they can concentrate on core competencies such as the development and sales of products and services.
In today's dynamic global business climate, Seamless Marketing combines the proven talents of creative professionals to bring businesses the tools they need to strategize, create, direct and launch marketing campaigns, acquire new customers and retain current ones. Seamless Marketing allows companies to focus on successfully competing in their business space and increasing sales.
About Seamless Marketing:
Seamless Marketing's multivendor managed solutions collaboration includes the following:
http://www.900-design.com, delivering compelling graphics, layout and design concepts that facilitate tangible business results and effective communications.
http://www.b2bmarketingstudio.com, the project management component of the collaboration and offers mobile and text messaging marketing, content creation, copywriting, 3-D modeling/design, and sales experience to showcase a company's products and services.
http://www.speedprosd.com, bringing your brand logo and marketing to life with full-color, high-resolution images for all your indoor, outdoor, tradeshow and vehicle graphic signage needs.
http://www.traversmedia.com, a web design and development firm offering professional web and social media solutions to businesses, community organizations and individuals locally and nationwide.
You can check out the collaboration at http://www.seamlessmktg.com.
# # #