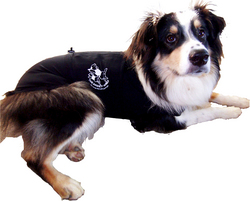 Thunderstorm and fireworks fear are our biggest uses, followed by separation anxiety, and other anxiety and/or fear-related behaviors such as jumping and barking
Huntington, IN (PRWEB) June 4, 2010
Thunderstorm and fireworks season can bring months of distress to dogs who suffer from it. The remedies for this issue are limited and the consequences can be severe which is why Susan Sharpe, ADPT, CDPT-KA, invented the Anxiety Wrap in 2001 (U.S. patent no. 6,820,574) and created a new category of "Pressure Wraps" within the pet industry.
Ms. Sharpe invented The Anxiety Wrap to help her clients' dogs remain calm during training or boarding. She started using T-shirts with duct tape to apply more pressure to the dog's body because it produced a greater calming affect. After 90 prototypes, she developed a unique product with a comfortable, breathable fabric a dog wears like a bodysuit. It has just the right amount of stretch to continuously reinforce the gentle pressure as the animal moves freely about. Ms. Sharpe incorporated the techniques of Maintained Pressure and Acupressure into the design. While the method of Acupressure has been around for thousands of years, Maintained Pressure was first publicized by Dr. Temple Grandin, an autistic doctor who developed the "Hug Box," a calming device for people with autism.
"Thunderstorm and fireworks fear are our biggest uses, followed by separation anxiety, and other anxiety and/or fear-related behaviors such as jumping and barking," explains Ms. Sharpe. "It's tremendously gratifying to hear back from our customers who report their lives are back to normal and their dog can now manage their fears with little or no distress."
Susan Sharpe's Tips to Manage Thunderstorm and Fireworks Fear
Noise anxiety can be a serious problem and it's estimated that millions of dogs suffer from it. Dogs can exhibit minor symptoms such as trembling, pacing and panting, or more extreme ones that result in damage to the house or to him, including serious injury and even death. This issue is disturbing to the dog's owner not only from an emotional standpoint because he/she sees the dog in distress, but also from a physical one in the case where he/she is awake all night with the dog during a thunderstorm.
The Anxiety Wrap helps end/lessen this anxiety and is easy to use. After a dog acclimates to it, an owner simply applies The Anxiety Wrap whenever the dog indicates a storm is approaching or before fireworks occur. If the owner is leaving the house/going to sleep and believes noises may occur, he/she can apply The Anxiety Wrap on the dog beforehand. Some dogs respond immediately and sleep through the noise while others may take a longer period of time and/or need training in conjunction with using The Wrap.
Ms. Sharpe offers three simple training tips owners can do to further help their dog manage its fear of loud noises:

One – Pinpoint the Cause of the Fear: While fireworks are an obvious one, for thunderstorms, determine what part of the storm causes your dog to react. For example, a dog that chases/barks at the lightning or thunder through the house might fare better in a covered crate to minimize the lightning while a radio or television plays nearby to help with the thunder.
Two – Find a Safe Place: Help your dog find a safe place such as a window-free closet or bathroom. As long as the occupants of the house are okay with the location and the dog remains calm without undergoing further trauma, it's an acceptable solution.
Three - Redirect: Redirect your dog's focus to help him let go of his perceived danger. Try walking your dog through the house on leash, asking him to perform learned behaviors or go up and down stairs, etc. Make your house an obstacle course and give the dog juicy treats for maneuvering through it, especially during a stressful situation. Gently engage your dog in whatever his favorite activity is whether it's a game of fetch or hide and seek.
It's very important to remain as neutral as possible. Don't attempt to coddle or lavish praise on your dog to comfort it when he's in a fearful state. It may cause the dog's adrenaline to rise and override the calming effect of the Anxiety Wrap. Don't give up if you don't see improvement right away. Ms. Sharpe explains, "Any positive exercise you can do helps to create a better association between your dog and the storm/noise."
One way to try and prevent thunderstorm fear from ever starting is to make the most out of that critical first year of puppyhood. Along with extensive socialization, Susan recommends playing ball or other fun activities with the puppy whenever a storm/loud noise occurs while the puppy is not showing any signs of fear.
The Anxiety Wrap has been featured on Animal Planet's "It's Me or The Dog" with renowned trainer Victoria Stillwell, The Today Show with trainer Andrea Arden, and was noted as a "fear buster" in the Humane Society of the United States' "All Animals" magazine. It was introduced at the 2002 AVMA Convention as a novel way to work with thunderstorm fear by Dr. Barbara Simpson. The company is currently working with Tufts University and Dr. Nicholas Dodman on a research study. The Anxiety Wrap has received positive reviews in major trade magazines such as Whole Dog Journal, Dog Fancy, Animal Wellness, Fido Friendly, and The Bark. It is sold on various online and print pet catalogs as well as stand-alone pet stores across the United States. It is used by pet owners, veterinarians, trainers, behaviorists and Tellington Touch Practitioners in the U.S., Canada, Australia, U.K., Spain, South Africa, Mexico, Japan and Hong Kong. http://www.anxietywrap.com For orders/information: 1-877-652-1266.
###