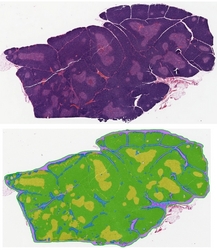 The training by Flagship Biosciences helped give my team greater confidence in our in-house quantitative pathology approaches. We could compare our results and measurement variability with others.
Flagstaff, AZ (PRWEB) June 7, 2010
Flagship Biosciences LLC, a provider of digital pathology services, launches an on-line training program for image analysis in digital pathology. This is the first time that a digital pathology course has been offered by a combined team of image analysis scientists and veteran pathologists.
The first course is a once-a-week six-week series and is designed to allow adequate time between courses for pathologists to practice what they have learned. "Quantitative pathology requires reproducible histology and immunohistochemistry procedures, followed by a pathologist who completely understands the image analysis run on a whole slide image," said Frank Voelker, a senior pathologist at Flagship Biosciences, and one of the instructors. "This course series is the first of its kind to discuss what happens to the tissue and the slide prior to image analysis, along with the actual image analysis procedures themselves."
"Having been involved in the pharmaceutical development of IHC-based companion diagnostics tests, I have seen first-hand a widespread lack of knowledge in the clinical trials pathology community on the theory, practice, and validation of these algorithms in real-life tissues," said David Young, president of Flagship. "There is an unmet need in the industry for experienced-based training in digital image analysis techniques. Due to the heavy workload of many pathologists, there is often little time to devote to attendance at a multi-day course offsite and digital pathology facilitates remote training in a group setting. This type of training is essential for pathologists to learn analytic techniques regardless of their algorithm software."
Pathologists or pathology scientists can visit digital pathology training for more information.The courses will begin with simple tools and measurements and proceed to more advanced image analysis techniques and software.
Flagship Biosciences LLC is a pathologist-owned contract research organization focused on utilizing whole slide scanning for quantitative pathology in pharmaceutical and medical device development.
# # #