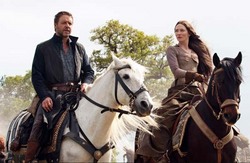 The medieval saddles designed by Black Country Saddlery are very creative and add to the look of Robin Hood.
Burbank, CA (PRWEB) June 8, 2010
It has been a long time in the "wings" so to speak but USHorse.biz member Black Country Saddles can now reveal that over 12 months ago it was asked to produce the saddles for the latest Ridley Scott blockbuster "Robin Hood" featuring Russell Crowe and Cate Blanchett.
"This was a really exciting project for us because these saddles were far from our usual production. I visited Shepperton Studios to consult with the creative designers on the styles of a medieval saddle. After many discussions, the designs we agreed upon for an array of models including the Cardinals Men, King Johns Guards and most importantly Maid Marions. Individual ornate metalwork were the finishing touch to each saddle. We were given free rein creatively, and it was a great deal of fun in the factory," said Nikki Newcombe, Sales Manager.
About Us
USHorse.biz is dedicated to offering affordable business tools for equestrian businesses. Custom website design, hosting, monthly updates and promotion only $99.95 per month, or promotion of your business for $29.95 per month in our newsletter with a reach of 60,000 equestrians nationwide.
Newsletter sign-up: http://visitor.constantcontact.com/email.jsp?m=1102224453465&p=oi
Follow us on twitter: http://www.twitter.com/USHorseBiz
Follow us on Facebook: http://www.facebook.com/group.php?gid=116584960756&ref=ts
# # #