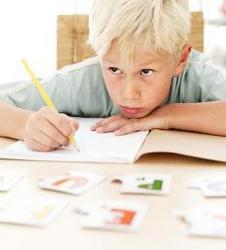 He is wrapping up his spring semester with a much higher grade than we even hoped for!
New York, NY (PRWEB) June 15, 2010
Brain Academy, a tutoring, testing and coaching center based in New York, has yet again successfully applied its new tutoring approach to help a struggling student succeed. Focused on cutting to the core of learning problems, Brain Academy's tutoring approach offers a lasting effect on math, reading and test preparation skills.
Jake, an 8th grader, struggled with math for almost four years. He tried one of the largest learning centers and private tutors to no benefit and could not get motivated to try harder in class. He hated his math class and his math teacher, and his grades in other subjects began to decline, as well. When Jake came in for an initial consultation at the Brain Academy, he was getting 55 on his math tests and could not improve this score despite intensive studying. After 10 tutoring sessions at the Brain Academy, Jake got 70 on his math test. Six weeks after that, he came home with 75 and four weeks later he got 95 on his math test. "He is wrapping up his spring semester with a much higher grade than we even hoped for!" Jake's mother says. "In the course of 20 sessions, Jake has achieved more than he has achieved in the past three years of math tutoring."
"We can't rewire the brain, but we can develop new connections between the brain cells to recognize and quickly process certain information and to perform certain operations, including math," says Dr. Danov, PhD, a Harvard-trained Pediatric and Adult Neuropsychologist, who used her extensive experience and knowledge of how the brain works to develop Brain Academy's unique tutoring approach. "We can use the new advancements in the neuro-science of the brain to improve weak cognitive and learning skills and to maximize the impact of strong cognitive abilities to improve academic achievement."
Dr. Danov's experience with thousands of youngsters with learning disabilities indicates that traditional tutoring does not address the core cognitive problems that caused the learning disability, weak test taking skills, ineffective study skills or specific learning problems in the first place. To address this gap in our current educational system, Dr. Danov developed a tutoring program that addresses these issues and helps students improve cognitive and academic performance and succeed in every subject. The Brain Academy tutoring approach to remediating learning problems strengthens and improves memory, attention, organization, processing and other cognitive skills from within and prepares students to acquire and retain new academic ability. Consequently, the child requires fewer tutoring sessions in fewer subjects, which is highly cost effective.
When Jake came to Brain Academy, a comprehensive assessment of his cognitive skills revealed weak visual perceptual processing, visuo-spatial reasoning and organization. These cognitive weaknesses are typically involved in difficulty grasping and understanding abstract math concepts and solving verbal math problems. The uniqueness of this tutoring approach is that, in addition to reviewing the key math concepts, Jake began a series of cognitive exercises to improve his cognitive weaknesses. As a result, it became much easier for him to break down complex math formulas, understand components of abstract math concepts, visualize fractions and translate verbal math problems into abstract relationships and formulas.
While he can read, Jake also had some difficulty understanding reading material. However, the math tutoring he received at Brain Academy involved visual perception, spatial analysis and organization training, helping him better process written information and understand verbal math problems.
Some children suffer from a distinct learning disability, such as inability to read, spell or understand abstract math formulas. While the majority of individuals with learning problems know how to read, spell and perform basic math operations, they struggle with an inability to understand and retain a reading passage; formulate thoughts and write coherent sentences; and understand verbal math problems. When these students receive traditional tutoring, they mainly review the material presented earlier in class. However, mere repetition is not sufficient for many students with learning disability; attention deficit; or weak memory, processing and organization skills. They often feel lost when faced with another math problem, spelling list or reading comprehension task. Despite sleepless nights and many hours of reading and preparation for a test, they cannot seem to score well on the actual test. Ultimately, many individuals with learning problems get trapped in a vicious cycle of learning difficulties, low self-esteem, poor motivation to learn, emotional distress and poor academic performance.
Realistically, stronger math and reading comprehension abilities are impossible to achieve without improving the "building blocks of learning" - cognitive abilities. If a child simply repeats class material at a traditional tutoring center, he will continue needing this tutoring for life, because the core cognitive weaknesses have not been addressed and the learning problem remains. Without "fixing" and strengthening these building blocks, using the cutting edge advances in neuro-science of the brain functioning, excellent academic performance is not possible and traditional tutoring is fruitless.
Thanks to his tutoring at Brain Academy, Jake was empowered with enhanced cognitive abilities that he will use in his math class and many other subjects that require these skills.
"Jake agreed to continue tutoring at Brain Academy through the summer to advance his math skills. This will make it easier for him to study math in the fall and he may not need a math tutor again, thanks to Alex and Dr. D. This is exciting news!" his mother says.
For more information about Brain Academy and its revolutionary new approach to student tutoring and learning, or for a free consultation, contact Dr. Danov at the Brain Academy- Tutoring, Testing and Coaching Center of New York at intake(at)55mytutor(dot)com or call 877-55-MyTutor (877-556-9888). Or visit http://www.55MyTutor.com. Free consultations are limited due to a high volume of calls. Offices are located in New York City, Brooklyn, Queens, Long Island and Staten Island.
# # #