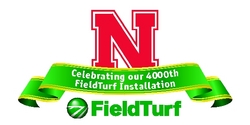 From the very beginning, FieldTurf has been a great partner for us and we are pleased to represent their 4000th installation with yet another FieldTurf project on campus
Lincoln, NE (Vocus) June 10, 2010
The University of Nebraska and FieldTurf have once again gone into the record books together as the Huskers have become FieldTurf's 4000th installation after being the first College program to adopt the revolutionary new turf system back in 1999. The announcement was jointly made by University of Nebraska Athletic Director Tom Osborne and FieldTurf President Eric Daliere. This historic 4000th installation represents yet another industry-first for FieldTurf.
The Nebraska Cornhuskers installed FieldTurf for the first time in the summer of 1999, becoming the first college program to use the high performance grass-like synthetic turf surface. Since then, the relationship has flourished to the tune of 9 state-of-the-art FieldTurf fields on campus leading to thousands of high schools, municipalities, professional teams and college programs following suit and making the switch to FieldTurf – not only for football, but for soccer, baseball, lacrosse, rugby and field hockey.
"From the very beginning, FieldTurf has been a great partner for us and we are pleased to represent their 4000th installation with yet another FieldTurf project on campus," said Osborne.
"We are very pleased to be the 4000th FieldTurf installation and to be part of this historic milestone," said University of Nebraska Associate Athletic Director John Ingram. "We have always been pleased with the exceptional level of service we have received from FieldTurf. Our players have been thrilled with our fields since we first started on FieldTurf in 1999."
"We could not be more proud that our 4000th installation has fallen on the organization that kick started our ascension into the ranks of college and professional sports many years ago," stated Daliere. "It is only fitting for us to reach this milestone with the University of Nebraska. The quality measures we have put in place throughout the years will ensure that the Huskers continue to receive the industry's best products and services from FieldTurf. All of us at FieldTurf are celebrating our 4000th installation, and we're happy that the University of Nebraska brought us to this achievement."
About FieldTurf
FieldTurf offers industry-leading engineering and manufacturing resources and leads the synthetic turf industry with regard to setting higher environmental standards. FieldTurf is the global market leader in terms of synthetic sports fields with more than 3,500 fields installed. Additionally, FieldTurf has attained more than 15,000 satisfied customers in high quality pet, residential, commercial and municipal landscaping solutions, playground surfacing and has a complete range of golf and tennis products. FieldTurf synthetic turf customers enjoy the benefits of significantly reduced water consumption, the elimination of fertilizer and pesticides, superior durability and drainage and a product that looks and feels real. The positive environmental impact of FieldTurf provides the added benefit of LEED building contributions.
FieldTurf is part of Tarkett Sports, a Division of the Tarkett Group. Tarkett Sports is the largest entity in the sports and landscape surfacing industries. Included within the Tarkett Sports portfolio is an impressive range of performance sports flooring products. This product range includes: synthetic and hardwood basketball; volleyball and gymnasium flooring; squash and racquetball courts; floor protection and covering systems; weight room flooring; and high performance indoor and outdoor running tracks, featuring Beynon and Atlas track surfaces. All Tarkett Sports surfaces are developed, produced and installed with a concentration on sustainability and a commitment to protecting the environment, providing additional LEED contribution opportunities for customers. The company calls this focus on sustainability and the environment 'Environmental Intelligence' and all company personnel strive to exemplify this philosophy in all aspects of the business.
For more information, please visit: FieldTurf Artificial Grass & Synthetic Turf Products
###