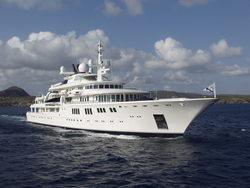 (PRWEB) June 13, 2010
Fraser Yachts, specialists in the luxury yacht market, are pleased to announce that they have been re-awarded the management contracts for the mega yachts Tatoosh and Octopus and for the super yacht Meduse. In addition to this news, Stuart Larsen of Fraser Yachts has been appointed as the Owner's Central Agent for the sale of M/Y TATOOSH, which has been valued at €125,000,000 (approx $171,950,000).
Editor Notes:
Named after an island in the Pacific Northwest, Tatoosh is a magnificent super-yacht designed by Kusch Yachts with interiors by Terence Disdale. She was originally built in 2000 and was refitted earlier this year. With a length of 92.38 metres, Tatoosh is currently the 26th largest yacht in the world. She has five decks and is able to accommodate 24 overnight guests in its 12 bedrooms. She is serviced by a crew of 35 and has a range of 5000 nautical miles.
Tatoosh' interiors have been designed in an elegant Hamptons style. As well as her 12 magnificent bedrooms, she also boasts a saloon, with a French limestone fireplace, a ladies powder room, and a cinema not to mention several observation lounges, which provide excellent opportunities for stargazing. She is able to transport 2 helicopters, a 12-metre sailboat as well as 5 sea doos. Film captured during the sea doo diving sessions can be replayed on the yachts numerous TV screens as well as in the cinema.
With a length of 126 metres, Octopus is currently the ninth largest yacht in the world. She was built by the German Shipbuilders Lürssen & HDW and at the time of her launch, in 2003, she was the largest yacht in the world. Espen Oino Naval Architects designed her exterior, while the American team of Jonathan Quinn Barnett and Christian Grevstad were responsible for her interior design. Octopus is serviced by a full-time crew of 60 people including several former US Navy Seals. She is powered by eight 2,400 hp Mercedes-Benz diesel engines and two MW ABB electric motors and has a cruising speed of 20 knots and a range of 8,000 nautical miles.
Octopus is popular amongst yacht-spotters and can be frequently seen docked in both Caribbean and Mediterranean ports. She is well known for hosting glamorous celebrity events and has hosted parties at both the Venice and Cannes film festivals as well as New Years Eve celebrations in St Barts. Former guests of Octopus include stars of both stage and screen including the singer Usher, members of the Rolling Stones and U2, and the actresses Penelope Cruz and Jessica Alba. Octopus' facilities include a swimming pool, a basketball court and a recording studio. She has two heli-pads, seven boats and a submarine with the capacity to sleep eight for two-weeks underwater.
Meduse is a super-yacht with a length of 61.1 metres and, while she may seem something of a minnow in comparison with Octopus, she remains one of the largest yachts in America. She was built in the Netherlands at the Koninklijke De Vries Scheepsbouw (Royal De Vries Shipyard) and was designed by De Voogt Naval Architects. She received her last refit in 2006, during which she was equipped with an ultra-modern stabilization system, designed to reduce roll motion effect in order to provide a more enjoyable cruising experience. Meduse is able to accommodate 12 guests and is serviced by a crew of 15. She has a range of 5,380 nautical miles and has a cruising speed of 14.5 knots.
Fraser Yachts are the world's leading full service yachting company. As well as providing yacht management services, Fraser Yachts also offer yacht brokerage, yacht construction, crew services and luxury yacht charter, including superyacht charter and megayacht charter. For further information on yachts and yachting services available from Fraser Yachts, please contact the Fraser Yachts Office in Monaco.
# # #