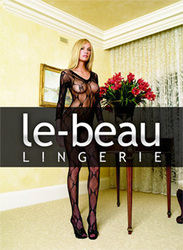 From first-time on-line negligee novices to seasoned veterans of the world of sexy ensembles
(PRWeb UK) June 16, 2010
You'll find an enormous range of fantastic fantasy designs here to suit all tastes and budgets, opening up the world of sexy lingerie to women and men all over the world.
Whether you're looking for a little something to surprise a loved one on a special day or adding a bit of sexy spice to the bedroom everyone will find an ensemble that will arouse and excite.
The decision by Le Beau Lingerie's creator and managing director Andrew Brown to open up his virtual retail doors to the public back in 2007 indicated a recognition and appreciation of the fact that women and women everywhere deserved to be able to buy high quality, inexpensive sexy lingerie from the comfort of their homes.
This realization and understanding of what people want from a lingerie store has seen the company go from strength to strength, building up a huge and ever expanding database of satisfied customers that keep on coming back – back for the great range, the great prices and, above all, the great service that lies at the heart of the Le Beau ethos.
This results in the unique opportunity for customers to purchase high quality sexy lingerie without having to accept the unfeasibly high mark ups prices that many websites choose to burden people with
Le Beau offer you this without the potential pitfalls and discomfort that many of us feel even browsing in these stores, let alone summoning up the courage to take something to the counter.
OK, time for a quick Quiz:
1) Ladies, do you want to be hassled by emaciated, patronizing sales staff while you're trying to decide what to buy for a sexy evening in?
2) Guys, do you want to be bothered by shop girls as you awkwardly wander around the store, looking for something for your special lady even though you've been desperately attempting to avoid eye contact?
Not even those with the most masochistic of inclinations would answer yes - though if that's your thing the Le Beau's wardrobe extends to your needs.
Okay, for those of you not traumatized by the prospect of buying your sexy lingerie at a store, there's still the simple fact that retail establishments don't have the space available within their pink-painted walls to show off the phenomenal range of sexy lingerie that Le Beau has to offer. To do this a retail stores would have to be enormous – and yet I doubt there are few things less sexy than buying your lingerie from an aircraft hangar at the back end of an industrial estate… except perhaps Susan Boyle in a tanktop… just a tanktop.
Instead you are forced to choose from a meager selection of items of inadequate quality in limited sizes. If there's one thing that consumers are no longer willing to accept, it is a lack of options.
And while retail stores may provide a couple of extra outfits for special days such as Christmas, Valentine's Day and, really quite disturbingly, Mother's Day, most people tend to have fantasies that depend more upon their mood and not upon a calendar.
Scheduling your sexy fun doesn't really seem to be all that fun or sexy.
Thankfully, Le Beau is here to help.
Instead of enduring such as ordeal why not relax at home, free from harassment and irritation, a glass of wine or beer in hand, making your choices from the extensive and enticing range, safe in the knowledge that the items that Le Beau send swiftly to your door will provide thrills beyond your wildest expectations.
The proof is in the pudding however, so why not visit the fine people at Le Beau – you won't be disappointed.
It's all there, easy to see, fun to choose, and irresistible to buy. From first-time on-line negligee novices to seasoned veterans of the world of sexy ensembles, you can get all your sexy lingerie at http://www.le-beau.co.uk
###