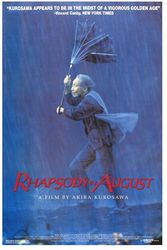 As the international licensor of this classic film, we are very pleased to play a part in honoring such a great artist as Akira Kurosawa
Plano, TX (Vocus) June 16, 2010
Odyssey Pictures Corporation (OPIX: OTCQB) (Odyssey), a media/marketing company, announces that it will provide the 32nd Moscow International Film Festival (June 17-26th) with a print of "Rhapsody in August" by iconic film director Akira Kurosawa. "Rhapsody in August" will run as part of a special retrospective the Festival is presenting on the 100-year anniversary of Kurosawa's birth. Odyssey holds the rights to the classic film, which is part of the company's library of film titles.
The prestigious event is in conjunction with the International Conference Dedicated to the Centenary of Akira Kurosawa being held in Moscow on June 20-22, which is co-hosted by The Ministry of Culture of the Russian Federation and the Russian Institute for Cultural Research in partnership with a host of Russian and Japanese cultural and educational organizations.
First released in 1991, "Rhapsody in August" (Japanese title: Hachigatsu no rapusodi) premiered at the 1991 Cannes Film Festival and was Kurosawa's second to last film before his death in 1998. With 30 films to his credit, Kurosawa is universally acknowledged as being one of world's most influential and important filmmakers. Some of his more famous films include "The Seven Samurai," "Yojimbo," "Throne of Blood," "Dersu Uzala" and "Ran." He received the Academy Award for Lifetime Achievement in 1989. "Rhapsody in August" is a tale of three generations of Japanese and their responses to the atomic bombing of Japan. American film star Richard Gere played a feature role along with a long roster of Japanese actors.
"As the international licensor of this classic film, we are very pleased to play a part in honoring such a great artist as Akira Kurosawa," states Odyssey's President/CEO John Foster. "I can't think of a better way to make use of our film library than to be a contributor to this prestigious event."
About Odyssey - Odyssey Pictures Corporation was founded in 1989 as a publicly traded entertainment company specializing in the financing and distribution of motion pictures. Texas based Odyssey has re-strategized over the past two years and adopted a more diversified business model including branding and marketing services targeting key clients in e-commerce, search engine positioning and online lead generation. The company is also engaged in content acquisition, multi-platform distribution, new media technology and corporate finance. For more information, go to http://www.odysseypix.com
Forward Looking Statements - Certain statements contained herein are forward looking. These forward-looking statements are based on our current expectations and are subject to a number of risks, uncertainties and assumptions. Many factors could cause actual results to differ significantly from these statements, including our history of operating losses, our need for additional financing, a failure of our products to perform as expected, introduction of competing products by other companies, pressures on prices from competitors and/or customers, regulatory obstacles to new product introductions, lack of acceptance of our products and technology changes. These risks, uncertainties and assumptions are detailed in documents filed by us with the Securities and Exchange Commission. The Company cautions that the foregoing list of important factors is not exclusive. Any forward-looking statements are made as of the date of the document in which they appear. The Company does not undertake to update any forward-looking statement that may be made from time to time by or on behalf of the company.
###