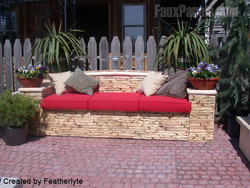 "Stone accents are popular in outdoor living. Now we have an affordable way for every homeowner to get this high-end look." Steve Barron, President FauxPanels
Deer Park, NY (PRWEB) June 17, 2010
With the arrival of sunny days and balmy nights, much time spent entertaining is moved out of the living room and into the back yard. Now it's easy to make the patio, garden, and porch inviting and exciting places to spend time with family and guests without breaking your back—or bank account.
Faux stone panels simplify the home decorating trend of adding stone veneers to transform fountains, fences and grilling areas. Steve Barron, president of Faux Panels, says, "Stone accents are popular in outdoor living design. Now we have an affordable and easy-to-manage way for every homeowner to get this high-end look."
Here are some ideas to spruce up your outdoor living areas.
Create an outdoor counter or bar on your patio with stone veneer sides and a countertop made of real or faux marble for the perfect place to eat burgers or sip smoothies.
Pull up barstools and transform the counter from a food preparation station to a complete dining area.
You can apply the faux stone siding to enclose the entire patio and frame the grill to create a cohesive outdoor room.
Attach stone veneer planters to your home's exterior walls for extra space to plant perennials. These panels—available in textures that include river rock, cobblestone and ledgestone—can be placed to cover the bottom few feet of your house's exterior, with space for flowerboxes on top.
Now is the time to add a water element to your garden. Build an outdoor fountain with the help of stone veneer. The stone panels also create a refined backdrop for an existing fountain.
Use stone veneer to create a stone wall that replaces your old fence. Then hang a small fountain, birdfeeder or thermometer to spice things up.
Entertainment Ideas Featuring Stone Veneer:

By following simple instructions and using a standard tool kit, stone veneer can be used to transform a tired bench into a gorgeous installation piece. The final product is a striking stone bench, which can stand alone or blend in to a stone wall—made completely with stone veneer.
Just add cushions and some throw pillows for the finishing touches to a brand new sunning spot.
Made of a durable, high-density polymer, stone veneer adds the elegance and sophistication of real stone finishing without all the heavy lifting involved with using rock or brick. Stone veneers are also specially formulated to resist moisture, sun-fading, and insects.
They're also easy to handle, cut and install. If you're a typical homeowner or remodeling hobbyist who is handy with a measuring tape and saw, you can do all the work yourself with tools you already have, following simple directions. If you prefer to hire the work done, you still benefit from lower material and installation costs.
Visit FauxPanels.com for more information on stone veneer, including installation tips, video tutorials and more design ideas.
About FauxPanels.com
FauxPanels leads the industry with the most realistic faux brick, stone and wood paneling, siding and column products on the market. It is a subsidiary of Barron Designs Inc., a family business dedicated to the home improvement industry since 1972.
###