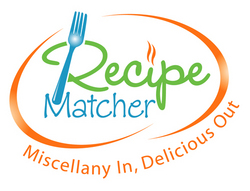 RecipeMatcher is both a great way to use up all your ingredients and try new recipes, saving most families $250 per month on groceries
San Diego, CA (PRWEB) June 18, 2010
RecipeMatcher announces the launch of its new website design and social network for Foodies, making it an easy to navigate and fun resource for those who enjoy cooking. The new website design provides you with a unique, user-friendly website, where you can match delicious and easy to make recipes with the ingredients you already have at home. Insert ingredients in your "ePantry" and RecipeMatcher tells you what dishes you can make. In addition to food recipes, you can interact with friends and other foodies. Share recipes, tips and cooking methods with others that share your passion about cooking and food.
"RecipeMatcher is both a great way to use up all your ingredients and try new recipes, saving most families $250 per month on groceries," says Mike Sasaki, founder of RecipMatcher.
Other website features, for RecipeMatcher members (membership is free), include "My ePantry" and RecipeMatcher's social network for foodies to share recipes and cooking tips. Registering is an easy, 1 step process. Once completed, provides the user with additional options and benefits. My ePantry includes both an electronic pantry that allows users to store their ingredients in order to match them to recipes and an interactive grocery list that is printable, allowing users to take it to the grocery store.
"I was inspired to create this website after spending hours in my pantry one evening wondering what I could do with the odds and ends I had in there," says Sasaki, "I no longer have this problem and I've been able to try so many new recipes based on what I already have at home".
RecipeMatcher.com was founded in 2006 by Mike Sasaki, a freelance thinker and developer based in San Diego, CA. For more information on the website, including collaborative opportunities, please contact Michael K. Sasaki at (619) 218-9401 or email mksasaki(at)recipematcher(dot)com
CONTACT INFORMATION
Mike Sasaki
RecipeMatcher
mksasaki(at)recipematcher(dot)com
(619) 218-9401
###