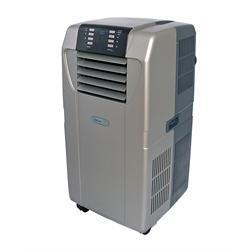 Santa Ana, CA (PRWEB) June 17, 2010
US-based home appliance manufacturer, NewAir, has formally announced the availability of the redesigned NewAir AC-12000E and brand new AC-12000H portable air conditioners. These 2 units are designed for spot or supplemental cooling, and both provide up to 12,000 BTUs of cooling power.
The NewAir AC-12000E portable air conditioner has historically been one of the company's top sellers, but due to stringent environmental standards over refrigerants, NewAir has switched to the more eco-friendly R-410A refrigerant in this popular AC. Not only is the AC-12000E now more "green," but it also boasts dramatically improved cooling power.
The NewAir AC-12000H is a new model for the company. It is almost identical to the "E" model, but comes with an additional heat pump. This allows the AC-12000H to be used year-round with cooling, dehumidifying and heating capabilities.
Both the NewAir AC-12000E and AC-12000H are designed for durability and functionality. Featuring a dehumidification mode, both portable air conditioning units can operate as an air conditioner, air circulator, or dehumidifier, therefore eliminating the need for redundant appliances.
Both models come with washable filters, adjustable louvers and full display electronic controls with remote. Both models also plug into standard 115 volt outlets.
Key Features and Benefits:

12,000 BTUs of cooling with approximately 350 square foot coverage area
Simple installation and maintenance-free operation
Adjustable air louvers deliver cold air exactly where it is needed most
Compact, space-saving design
AC-12000H has a built-in heat pump, which allows it to provide heating as well as achieving more BTUs while using less energy
Eco-friendly R-410A refrigerant meets environmental standards worldwide
NewAir has a long history of manufacturing high efficiency portable air conditioners. The company's products are sold exclusively through authorized online retailers such as Air-N-Water.com. Air-N-Water is one of the country's largest independent retailers of residential and commercial heating, cooling, and purification products. The company has been at the forefront of climate control solutions since 2003. Air-N-Water.com offers the full range of NewAir portable air conditioners through their website and in their showroom in Santa Ana, California.
# # #