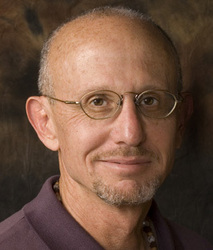 The Chopra Center has set up a web site www.lovefordavid.com where you can publicly post your prayers and good wishes for David Simon
San Diego, CA (PRWEB) June 17, 2010
Today at the Chopra Center for Wellbeing co-founder and medical director, Dr. David Simon, announced that he has been diagnosed with an aggressive form of brain cancer known as glioblastoma. He will undergo surgery this week and will be treated with chemotherapy and radiation in the months to follow.
Dr. Simon, a board-certified neurologist and expert in ayurvedic medicine and other traditional healing arts, is recognized as a leading authority in the effective and appropriate use of mind-body medicine practices. In 1996, he partnered with Deepak Chopra to establish the Chopra Center for Wellbeing in Carlsbad, California, where he has served as the driving force in developing and leading the Center's programs and seminars in mind-body medicine, emotional healing, and spirituality.
Deepak Chopra said, "David Simon and I have shared a deep emotional and spiritual bond for over two decades. From him I have learned how to combine selectively the best therapeutic advances in medicine along with the healing wisdom traditions of the world. Now as David addresses his challenge with sobriety, wisdom, courage, and love, the Chopra Center staff and I pledge to support David and his wife and family – and to continue with his inspired teaching and inspiration. We are committed to his return to well-being, so that he can continue to teach and inspire us."
In his more than 30 years as a physician, Dr. Simon has supported hundreds of patients facing cancer, including many with the same kind of brain tumor he is facing. "As a doctor, while I know the prognosis for this type of cancer isn't good, I feel fortunate to be under the care of specialists at U.C. San Diego. I am very impressed with their advanced treatment programs and I feel confident that I am getting the best possible care," said David Simon.
In announcing his diagnosis, David Simon said that he has a sense of peace and inner calm despite the uncertainty of the future. "I am grateful for the timeless teachings and healing practices that we teach at the Chopra Center, including meditation, Ayurveda, and yoga. As I face this new challenge in my life, the expanded awareness and understanding I've gained from the ancient spiritual wisdom is supporting me on my journey."
"I feel an enormous amount of love for my family, friends, and this fragile, beautiful planet. If I could convey a single message, it would be to tell the people in your life that you love them right now. I've shared the final days with patients moving through their transition, and time and again they say to me, "It's all about love. It's always been about love. Love is the only thing that's real."
The Chopra Center has set up a web site website http://www.lovefordavid.com where you can publicly post your prayers and good wishes, share stories about how David Simon has impacted your life, and send jokes (laughter is the best medicine). He will be checking it on a daily basis.
Dean of Chopra Center University davidji said, "For almost 50 years David has dedicated his life to helping millions around the world to heal – emotionally & physically. As his apprentice, I have been graced every day by his brilliance, gentleness, & his magnificent skill of speaking with grace from his heart. As we all journey into the unknown together, he continues to share the core of his teachings – the power of present moment awareness and the gift of surrendering to our heart. He has made everyone he's touched a better version of themselves."
Once he recovers from surgery, Dr. Simon plans to continue to work daily at the Chopra Center.
About David Simon
David Simon, M.D. is the co-founder, medical director, and CEO of the Chopra Center for Wellbeing. A board-certified neurologist and world-recognized authority on traditional healing systems, Dr. Simon brings a unique perspective to the relationship between mind, emotions, and health. David is the popular author of many wellness books, including Return to Wholeness; The Wisdom of Healing; Vital Energy; The Ten Commitments; and his most recent bestselling book, Free to Love, Free to Heal.
About the Chopra Center
The Chopra Center for Wellbeing was founded by Deepak Chopra, M.D. and David Simon, M.D. in 1996. Located in Carlsbad, California (San Diego County), the Center offers a wide variety of programs, workshops, retreats, and teacher training programs that integrate the healing arts of the East with the best in modern Western medicine. The Chopra Center has helped millions of people around the world find peace of mind, physical balance, and emotional healing. The website http://www.chopra.com is your starting point on the path to wellness.
Media Contact:
Kathy Bankerd
(760) 494-1609
###