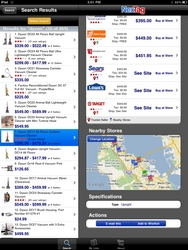 San Mateo, CA (PRWEB) June 22, 2010
NexTag®, a leading online shopping comparison site, has just released the latest version of its free mobile application for the Apple iPad. The app brings all the popular elements of the company's technology to a brand new platform. iPad users now have the tools they need to save while at home or on the go.
Shoppers familiar with NexTag® will recognize all the features they've grown to love on the website and many new ones exclusively for mobile devices. The new NexTag® Mobile app gives users the ability to:

Compare terrific products and prices from thousands of sellers
Easily navigate popular product categories
Sort products by lowest prices, top brands, specifications and much more
Find merchants' local store locations via Google Maps for offline purchases
Create wishlists of favorite products
Get tax and shipping cost information before they begin a transaction
In addition this latest version of the NexTag® Mobile app is optimized for the expanded viewing area of the iPad, giving shoppers more information on a single screen. Now users can search for a product, find the right store and see the nearest location, all on one page.
The app is currently available for free download via the iTunes App Store, and is compatible with the iPad, iPhone, and iPod Touch. NexTag® Mobile requires iPhone OS 3.1 or later.
About NexTag®
NexTag® is the leading comparison shopping site for products, education, travel and more. At the core of NexTag® are proprietary technologies and algorithms that enable shoppers to quickly compare prices and find great deals on millions of products and services. Over 30 million people per month use NexTag® to research, compare, and save money on products and services online*.
NexTag® has been named one of the "50 Best Websites 2008" by TIME magazine. The company operates comparison shopping sites in the US (NexTag.com), the UK (NexTag.co.uk), France (NexTag.fr), Germany (NexTag.de), Spain (NexTag.es), Italy (NexTag.it), Australia (NexTag.com.au) and Japan (Nextag.co.jp). NexTag® is headquartered in San Mateo, California with offices in London, Tokyo and Gurgaon, India.
*Source: NexTag.com
###