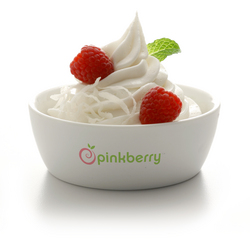 I am energized by Pinkberry's distinctive taste, innovative store design and unmatched commitment to customer service. I am truly honored to be a part of the Pinkberry team.
Orlando (Vocus) June 23, 2010
Pinkberry, the number one tart frozen yogurt brand, will open its doors in Orlando this summer at the Marketplace at Dr. Phillips, on the corner of Dr. Phillips and Sandlake Rd. The newest Pinkberry location marks the arrival of the first Pinkberry in Florida. With over 85 stores, Pinkberry Orlando is the latest of many new markets to open recently - including Dallas, Bay Area, Sacramento, New Orleans, Denver, Dubai, Bahrain and Mexico City, with several more new markets to be announced and opening later this summer and into the fall.
Pinkberry is a one-of-a-kind frozen yogurt experience. The addition of Pinkberry will introduce Orlando to the refreshing flavors and sophisticated style for which the international brand is known. Bill Harmening II, an Orlando native and local business owner, is the Pinkberry area developer for Orlando.
Ron Graves, Pinkberry CEO, says, "We're excited to introduce Pinkberry's high quality, unique frozen yogurt experience to Orlando and we couldn't have picked a better partner than Bill. His enthusiasm for Pinkberry, commitment to quality and outstanding customer service, and 30 years of restaurant operating experience make Bill the ideal candidate to bring the one-of-a-kind Pinkberry experience to this market."
Pinkberry premium frozen yogurt is made with real nonfat yogurt and nonfat milk that is rBST hormone free. Pinkberry is made with only the highest quality ingredients and is the perfect balance of tart and sweet, resulting in a refreshing, clean and craveable taste.
Orlando locations will be serving Pinkberry's six distinctive flavors. From its signature Original flavor, a sweet and tangy yogurt with a refreshing finish to Pomegranate, a bold and tangy flavor made with 100% California-grown pure pomegranate juice, Orlando customers are in for a surprising and refreshing treat unlike anything they've ever tasted. In addition, Pinkberry serves an exceptional Coconut flavor, smooth and subtle, made with real coconut puree for a fresh and cool finish, a rich, indulgent Chocolate; and Mango, a fruity and light flavor made with authentic Alphonso mango puree for a soothing finish.
Customers can personalize every yogurt experience with any combination of delicious toppings. At Pinkberry, uncompromising quality is paramount and the toppings bar is no exception. Each topping is selected with the highest quality standards, such as Grade-A fresh fruit that is hand-cut daily in-store, organic gummy bears with no high fructose corn-syrup, all natural honey almond granola, 100% pure pomegranate juice, or rich, premium Belgian chocolate shavings. Every item is thoughtfully selected as a unique and delicious complement to the various Pinkberry frozen yogurt flavors. In addition to frozen yogurt and toppings, Pinkberry also offers Pinkberry Fruit Parfaits and Pinkberry Smoothies as fresh and satiating choices for any time of day.
Bill Harmening is enthusiastic about the Pinkberry endeavor. "I am thrilled to bring Pinkberry to Orlando," says Harmening. "I am energized by Pinkberry's distinctive taste, innovative store design and unmatched commitment to customer service. I am truly honored to be a part of the Pinkberry team."
Local fans who want up-to-the minute news and discount offers should sign up to be a Pinkberry Groupie at http://www.pinkberry.com/groupie. The brand can also be found on Facebook and at Twitter @pinkberryswirl.
Pinkberry of Florida is currently searching for outgoing, customer friendly and reliable individuals to fill the positions of Assistant General Manager, Shift Leads and Team Members at our Pinkberry locations in Orlando. Enthusiastic, energetic individuals interested in joining the Pinkberry team can apply online at Pinkberry of Florida Employment
Pinkberry is located at The Marketplace at Dr. Phillips, 7600 Dr. Phillips Blvd. , on the corner of Dr. Phillips and Sandlake Rd. For additional information, contact Mary Deatrick at 407-332-5212 or mary@deatrickpr.com.
About Pinkberry
With corporate headquarters in Los Angeles, Pinkberry reinvented the frozen yogurt category when it launched in West Hollywood, Calif. in January 2005. Today it is the most talked about, best tasting, premium frozen yogurt, made with high-quality fresh ingredients. From store design to exceptional customer service to irresistible flavors and toppings, Pinkberry provides a social experience that indulges the senses. Pinkberry's distinctive flavors are expertly crafted to complement its daily fresh-cut fruit and premium toppings that offer an irresistibly tangy, incomparably clean and refreshing taste. Pinkberry is certified by the National Yogurt Association and carries the Live & Active Cultures Seal. Get a taste of Swirly Goodness by visiting http://www.pinkberry.com.
###