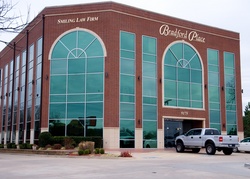 The big appeal is Cenegenics' preventive care. We do all we can to prevent health problems on the front end rather than wait for disease to appear and then treat it.
Las Vegas, NV (PRWEB) June 30, 2010
Global leader Cenegenics® Medical Institute and Tulsa physician Patrick Sharp, DO—previously a Cenegenics physician affiliate—partnered to launch the Oklahoman city's first age management medical center. Cenegenics Tulsa is one of several new centers the age-management giant is opening in health-conscious metropolitan areas to meet the rising demands for real, science-based solutions to age-related disease.
As the second-largest city in the state, Tulsa houses a diverse economy and hosts fitness and recreational activities for its residents, making the city a prime location for the Cenegenics lifestyle and approach: A 180-shift from traditional medicine's reactive, disease-focused mindset to a health-centered, preventive one. Cenegenics attracts international media attention, 20,000 patients worldwide (2,000 are physicians and their families) and physicians from virtually all walks of medicine who want a better way to practice medicine.
Such was the case with Sharp, who was a family practice physician prior to becoming a Cenegenics physician affiliate.
"Tulsa is home to me—opening the center is a dream that I've had since starting with Cenegenics five years ago. I see Cenegenics as offering better health care, which is why age management medicine has become my passion and the future focus of my practice. I'm excited to bring the benefits of our proactive approach to my hometown, where people are health-minded and fitness oriented," Sharp said.
The 1200-square-foot Cenegenics Tulsa is conveniently located in an upscale medical office suite at 92nd and Yale—two blocks from the Creek Turnpike and five minutes from the River Walk. Similar to other Cenegenics centers, the Tulsa facility presents a welcoming, sophisticated ambiance with black marble floors, leather furnishings and light filtering through walls of glass.
The practice touts an open reception area/lobby, physician offices, a nutrition-exercise counselor area, an exam room equipped with leading-edge diagnostics and a private VIP room where a patient can relax throughout his/her seven-hour evaluation day.
The big appeal, Sharp says, is preventive care. Economics halt traditional, insurance-based medicine from spending significant investment in a proactive approach. As a result, patients are forced to wait until health issues and disease arise to get treatment—a problematic strategy that Sharp feels will only get worse with the declining America healthcare system.
"With the Cenegenics approach, we do all we can to prevent problems on the front end. I believe there will be an even bigger need for what we're doing and how we do it," Sharp said.
Like other Cenegenics physicians, Sharp walks the talk. He is a longtime fitness aficionado with a 2nd degree blackbelt in karate, 1st degree blackbelt in Japanese Ketsugo Jujutsu and purple belt Brazilian Jiu-Jitsu.
For more information about Cenegenics, please visit http://www.cenegenics.com. Register for quick access to the informative Guide to Healthy Aging, Executive Summary and media excerpts. To schedule an interview, please contact Ann Castro, Cenegenics Director of Media Relations: 702.953.1588.
About Patrick Sharp, DO
Dr. Patrick Sharp graduated from the University of Oklahoma College of Pharmacy and earned his DO degree from the Oklahoma State University College of Osteopathic Medicine. He completed a family practice medicine residency at Oklahoma State University, then practiced his specialty at several hospital groups: St Francis Hospital, SouthCrest Hospital and Ardent Health Systems. In 2004, he became trained/certified in age management medicine and added a part-time Cenegenics physician affiliate practice to his existing family practice. By January 2010, Dr. Sharp entered age management medicine full time, followed by a partnership with Cenegenics in June 2010 to open the Cenegenics Tulsa center, located at 9175 South Yale, Suite 220.
About Cenegenics
Cenegenics® Medical Institute, recognized leading authority in age management medicine, has centers in Las Vegas, Nevada; Charleston, South Carolina; Boca Raton, Florida; Dallas/Fort Worth, Texas; Atlanta, Georgia; Chicago, Illinois; Los Angeles, California; Philadelphia, Pennsylvania; Washington, DC; New York City, NY; Tulsa, OK. Additional centers are scheduled to open in other major metropolitan areas in the near future. With an established presence in the medical community, Cenegenics uses a proactive approach based on solid science and comprehensive evaluation. Their established protocols have been recognized as the next generation of medical science, capturing global attention. Cenegenics offers CME-accredited physician training and certification opportunities in age management medicine via the nonprofit Cenegenics Education and Research Foundation (CERF). Headquartered in Las Vegas, Cenegenics serves more than 20,000 patients worldwide—2,000 are physicians and their families.
###