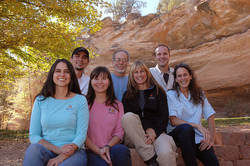 Kanab, UT (Vocus) June 30, 2010
Dog lovers followed the dramatic stories of rescue, rehabilitation and happy tail endings for the dogs, and the people who cared for them, in the series "DogTown" on the National Geographic Channel.
Though "DogTown" (the television show) may be over, Dogtown (the place) lives on; as does the affection people have for both. National Geographic Channel chronicled the work of Best Friends Animal Society at its sanctuary with its 400+ canine residents. Best Friends also cares for about 1,300 cats, parrots, horses, bunnies, potbellied pigs, etc., at its sanctuary in scenic southern Utah.
The series ended this spring but the fans of the show demanded more. They had questions to ask the stars, Dogtown managers John Garcia and Michelle Besmehn, animal behavior consultant Sherry Woodard, veterinarians Dr. Mike Dix and Dr. Patti Iampietro, and dog trainers Ann Allums and Pat Whitacre. They wanted to find out more about the sanctuary, the TV show, and its dog and human stars.
So to accommodate all of the questions pouring in, Best Friends is hosting "DogTown Unleashed," a free, pre-recorded, on-demand webinar from August 5 to August 8 that will feature a video taking viewers throughout Best Friends Animal Sanctuary, including Dogtown (the place, that is,) where they will be catching up with the dogs who were featured in the show and who are still looking for forever homes. Then they will be treated to a behind-the-scenes peek at everything that makes Best Friends and Dogtown unique. Best Friends co-founder Faith Maloney will be hosting the webinar and interviewing all of the stars of "DogTown."
And here's where the fans of "DogTown" come in: Fans are invited to submit their questions by July 2. Fans whose questions are featured in the webinar will receive an exclusive gift autographed by the stars of DogTown.
For people who still can't get enough, there will be live chats with the stars of DogTown, August 5-8 at 1 p.m., 5 p.m. and 8 p.m. EDT.
About Best Friends Animal Society:
Best Friends Animal Society is a nonprofit, organization building no-kill programs and partnerships that will bring about a day when there are No More Homeless Pets. The society's leading initiatives in animal care and community programs are coordinated from its Kanab, Utah, headquarters, the country's largest no-kill sanctuary. This work is made possible by the support of a grassroots network of members and community partners across the nation.
Contact for more information:
Barbara Williamson, media relations manager
Best Friends Animal Society
(435) 644-2001, ext. 4408
(435) 689-0200 (cell)
barbara(at)bestfriends(dot)org
Temma Martin, public relations specialist
Best Friends Animal Society
(801) 953-8876 (cell)
temmam(at)bestfriends(dot)org
###