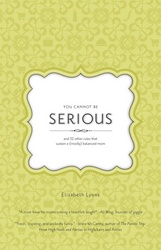 "Fresh, inspiring and wickedly funny." --Jenna McCarthy, author of The Parent Trip
Phoenix, AZ (PRWEB) July 1, 2010
Elizabeth Lyons' third book provides a contemporary and humorous roadmap for "doing it all" that any woman can relate to while attempting to untie her own "nots."
After 10 years enduring the Mom Balance roller coaster, Lyons discovered that the first secret to navigating the land of euphoria and hysteria was no more profound than flying her freak flag high. Elizabeth's own chaotic experiences parenting 5 children while launching two successful businesses provide the basis for her hilarious and highly effective balance-creating strategies for moms.
"Having more desperately than curiously read my own fair share of self-help and parenting guides over the years, I find it truly refreshing how far something as simple as a customized life-balance philosophy can take you," notes Lyons, who claims her rules enable her to be "95% sane, 95% of the time."
Your audience will tune in to learn unique, innovative and organic strategies that will allow them to fall into bed at night exhausted but able to confidently proclaim, "I love my life!"
Elizabeth's own unique approach includes rules such as:

Repeat After Me: I'm a Good Mom (Even if I Don't Scrapbook)
Self-Limiting Perspectives Are Not Allowed
Breakdowns are Normal -- and Necessary
Chaos Builds Character
Have a Designated Treat-of-the-Moment
Remember, the Sun Always Shines on TV
Float Above Insanity
Elizabeth Lyons is a mom, wife, friend, lunch maker, chauffeur, product designer, hostage negotiator, on-call plumber, tile layer, guitar student, and window washer. She is the author of You Cannot Be Serious: and 32 Other Rules that Sustain a (Mostly) Balanced Mom as well as two other humorous parenting guides. She is also the inventor of the Hold It Baby! On-the-Go Toy Organizer and the managing editor of HowToRaiseTwins.com.
She remains grounded by demanding the right to do things her way—a way that often defies even the most creative imaginations—and strives to inspire others to do things their way (once they figure out what their way is!).
Elizabeth lives in Arizona with her husband, five kids, two dogs, two fish, four barely surviving organic gardens, and whatever (or whomever) else has taken up residence with them in the last five minutes.
###