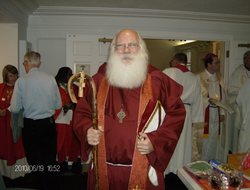 The Pope's unwillingness to address this international issue in a meaningful and productive manner demonstrates a long-standing and profound moral failure.
Incline Village, NV (PRWEB) July 16, 2010
A Christian Bishop, Monk, and child advocate, whose legal name is Santa Claus, is taking Pope Benedict XVI to task, for what Bishop Santa Claus describes as, "the Pope's continued moral failure to address urgent children's issues within the Roman Catholic Church."
Bishop Santa emphasizes that the Pope's unwillingness to address this international issue in a meaningful and productive manner demonstrates a long-standing and profound moral failure – one shared by many leaders and clergy of other denominations.
In the United States, between 1950 and 2009, the Roman Catholic Church has paid more than $2.6 billion to settle claims of abuse by clergy, has obstructed criminal and civil investigations, and often filed for bankruptcy to avoid making court-ordered payments to survivors of clergy abuse. Santa observes that, "The Roman Catholic Church clearly is more concerned with protecting its clergy and assets than protecting vulnerable children."
Bishop Santa intends, "to explore and utilize a variety of legal means to hold the Roman Catholic Church, especially the Pope and Vatican, accountable for the suffering of many thousands of vulnerable children at the hands of clergy, straight and gay, young and old, celibate or not."
To begin, Bishop Santa suggests Catholic parishioners refrain from supporting their church/parish with direct donations. Instead, they can identify and donate to respected Catholic charities administered by lay people and/or establish escrow accounts to provide donations for valued local Catholic clergy and programs. That diminishes parishioners' support of dioceses and the Vatican, until the latter acknowledge that all abuse by clergy must and shall be reported to government authorities immediately with the full cooperation of the Roman Catholic Church.
Next, Santa proposes: (1) strengthening mandatory reporting laws by including all clergy as mandated reporters of child abuse and proscribing imprisonment for mandated reporters and third-parties (individuals, agencies, institutions, and organizations) who fail to report; (2) requiring all clergy be fingerprinted annually and those prints checked at the state and federal level and a federal database established to cross-check national and international arrests and convictions of clergy; (3) requiring all clergy to take proscribed training by designated competent educators in what constitutes child abuse and reporting requirements; (4) passing legislation requiring states and the federal government to revoke the nonprofit status of any religious organization or "house of worship" that willfully and continually fails to report child abuse by clergy and/or knowingly harbors clergy who abuse children; and, (5) prohibiting clergy who are convicted of child abuse and/or who fail to report clergy abuse of a child from serving as clergy, in any capacity, anywhere, for life.
Santa Claus is a consecrated Bishop in The Apostles' Anglican Church and Christian Monk in the Order of the Anam Cara. In 2006 and 2007, Santa visited every Governor's staff throughout the United States, discussing the health, safety, and welfare of children. Santa founded The Santa Claus Foundation, through which he has served as a volunteer advocate for millions of children who are abused, neglected, exploited, abandoned, homeless, and institutionalized. In 2008, Santa ran as an independent write-in candidate for President of the United States, in order to prompt his opponents to address children's issues. In 2009, Santa was awarded the International Peace Prize by The Santa Claus Peace Council in Turkey for stressing that international peace must begin first by instilling peace within the heart of every child. This year, Bishop Santa addresses the epidemic of clergy abuse of vulnerable children.
For those who think Santa Claus might be "a bit off," Santa smiles and is quick to remind them that, "Love is the greatest gift of all -- every child deserves to be nurtured, protected, and loved."
Video of and information about Santa Claus is available at: http://www.TahoeMediaCenter.com, http://www.YouTube.com and http://www.TheSanta.im.
# # #