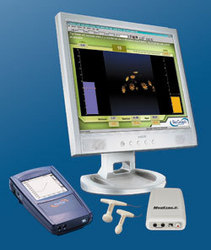 Thought Technology is delighted to partner with Mediwatch plc in this endeavour to enhance patient care.
(PRWEB) July 5, 2010
Mediwatch plc, the innovative urological diagnostic manufacturing company, and Thought Technology Ltd., the worldwide leading expert in biofeedback, have entered into an OEM agreement to integrate their technology onto the Mediwatch pelvic floor diagnostic platform.
The agreement provides for collaboration between the two groups to offer a range of pelvic floor rehabilitation systems under the Mediwatch "Venus" brand. The new range of products will be sold worldwide by Mediwatch through its direct channels in the USA, UK and its distributors throughout the rest of the world.
Pelvic floor rehabilitation equipment is yet another component of Mediwatch's strategy to develop a "One Stop Shop" approach to the provision of urologic care equipment.
Philip Stimpson, Mediwatch Chief Executive commented:
"This OEM agreement provides Mediwatch with an immediate entry into this expanding marketplace. We continue to look at ways to develop, extend and enhance our "One Stop Shop" offering for diagnostics all with the aim of providing excellent patient diagnosis and care solutions."
Lawrence Klein, Thought Technology Vice President stated:
"We are delighted to partner with Mediwatch in this endeavour to enhance patient care. Their business vision is similar to ours, i.e. to be clinically driven, supplying as complete a line of advanced technology as possible."
Thought Technology Ltd.
Thought Technology, based in Montreal, Canada and founded in 1975, is the world's leading biofeedback and psychophysiological instrument manufacturer. Its instrumentation not only monitors and records a wide variety of physiological and mechanical signals, but also analyzes and feeds back information in real time, through a variety of auditory and visual means.
Thought Technology equipment is used as an essential part of many therapeutic treatments and clinical assessment protocols to treat stress related disorders as well as provide treatment for incontinence and muscle rehabilitation, including EMG-triggered stimulation. On the non-medical side, it is also used in ergonomics, sports and educational applications - wherever accurate and sensitive psychophysiological monitoring and biofeedback are needed.
Thought Technology's sports involvement has spanned 35 years, with intensive participation in the Vancouver 2010 Olympics, and with Canada's success of acquiring 26 Medals, and a record of 14 Gold. The use of Thought Technology's ProComp/Infiniti systems in the MindRoom at AC Milan and other elite Football (soccer) clubs have made the company's Sport involvement legendary.
Mediwatch plc: Innovative Diagnostic Solutions
Mediwatch is a leader in its field. The Company is continually striving to develop and market faster, simpler and less invasive diagnostic products to save lives and restore quality of life for people with a variety of urological conditions. Founded in 1995, Mediwatch has developed a range of point-of-care medical equipment for the diagnosis of urological disorders.
The business focuses its design skills towards diagnostic products that can be used across the medical profession. Mediwatch has established excellent foundations for continued growth building on the acquisition and integration of a division of Medtronic Inc in 2007, an international distribution network and its research and development programmes.
Mediwatch has a global presence with offices in both the UK and US. The UK office is the base for manufacturing, research and development, sales and marketing to the rest of the world outside of the US and Canada with a direct sales force for the UK markets. The US office manages a direct sales and marketing infrastructure to cover the US and Canada along with some research and development activities.
Enquiries:
Mediwatch +44 (0)1788 547888
Philip Stimpson, Chief Executive
Fairfax I.S. PLC +44 (0)20 7598 5368
Nominated Adviser / Broker
Ewan Leggat / Laura Littley
Enquiries:
Thought Technology Ltd.
1-514-489-8251
http://www.thoughttechnology.com
Dr. Hal K. Myers - President
Lawrence Klein - Vice President
Shawn Tian - Sales and Marketing Manager
# # #