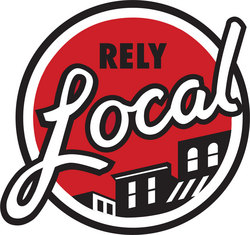 RelyLocal is really giving me and my community the hope and promise of better times to come.
Bend, OR (PRWEB) July 15, 2010
On July 15, RelyLocal announced Victorville, CA, as the 100th city to join the quickly growing list of communities that are part of a nationwide effort to strengthen their local economies.
Victorville's Alyssa Penman remarks, "I truly believe that small businesses will bring our local economy back into high gear and provide more stability over the long term." She adds, "Finding ways to support our local businesses and improve our community brings me great satisfaction!"
RelyLocal was created in response to the economic problems facing the country. The idea was very simple – empower local business owners to stabilize their local economy while educating residents on the important role that local business plays in the overall health of the community. The company began with three main goals; 1) To provide new, locally-driven, cost-effective marketing resources to small businesses, 2) To develop a grass roots campaign, uniting business owners and residents in a fight for the economic health of their community, and 3) To create as many new jobs across the country as possible.
After a quick test market in Bend, OR, RelyLocal was made available to like-minded entrepreneurs and community advocates across the country. The response has been exciting.
"We couldn't be more pleased with the steady growth," says RelyLocal's Co-Founder, Steve Ramsey. "It has mostly been word-of-mouth up to this point. Our mission and business model really struck a chord across the country and before we knew it, we were surrounded with hundreds of extremely talented and passionate people who are excited to make a difference in their community every day."
People like Theresa Chmiel of Pensacola, FL, who dropped everything to launch RelyLocal in an effort to bring hope and resolve to an area that is reeling with the economic and environmental effects of Deep Horizon Oil Spill. "The problem isn't really with WalMart or Amazon," says Chmiel. "The problem is that residents just don't think about how they spend their money or where that money ends up. It leaves the community - in many cases for good!" (related story)
"I think we were the first or second to join RelyLocal," says Angi Reed of Prescott, AZ, an area reeling from the downturn in construction jobs. "Our community really needed something like this, so it was an easy decision. We took a crazy leap of faith, quitting our day jobs and just going for it. Now, just a few months later, we have a staff of eight and hundreds of local members and loyal residents who are joining hands to see their neighbors through this tough time. We are making an active difference in our community and we couldn't be happier!"
According to the founder, the strength and growth of RelyLocal is in the community of partners across the country. "We took a gamble and developed RelyLocal from the ground up as an entirely new 'open source' type of business model. This would have never been possible by just hiring sales reps across the country," says Ramsey. "Sure, we provide some simple tools to get our partners started, but the amazing thing is how they really depend on each other for everything from marketing materials and sales strategies to creating partnerships with other local organizations. The power is truly in the people!"
At RelyLocal's core is the location-specific online directory devoted to locally owned and operated businesses. In addition to the web site's core feature set of maps, photos, reviews, and coupons, local businesses are promoted through search engine marketing, social media, co-op advertising, old-fashioned networking, and locally driven grass roots campaigns. RelyLocal jokingly refers to this approach as "Word of Mouth Marketing 2.0".
"RelyLocal isn't like a normal franchise or business opportunity," Ramsey explains. "We don't charge any up-font costs, we don't tell people how to run their business, there are no products to buy, no limiting rules to follow, etc... In fact, we do everything we can to empower our partners to make their RelyLocal outreach as personal and local-centric as possible. Obviously, RelyLocal in Compton, CA, is going to be much different than RelyLocal in Bozeman, MT."
RelyLocal recently began accepting applications for the almost 1,000 available territories across the country. "We are on track for our goal of launching 300 cities and creating about 900 jobs this year," says Ramsey "The toughest part has just been weeding out people who are just looking make a quick buck. We aren't looking for sales people, we are looking for community advocates."
Tom Reed of Prescott, AZ, talks about all of the calls he receives, "With all of the online fraud and pyramid schemes out there, they want to hear from real people on the ground that RelyLocal is not a scam. We are proud to be living proof that it is a fantastic opportunity for the right people who want to make a difference in their communities.They just have to be willing to put in the work!"
Whenever he is asked why they have made it so easy and inexpensive to launch a RelyLocal business campaign, Ramsey replies, "Our goal isn't to make money - it is to change people's lives and strengthen communities across the country. That's why we keep at least 90% of the local revenue in the local economy." Reflecting on his years as a non-profit executive, he adds "There was a time when I wanted to be rich and famous, but nothing is more fulfilling than working with the hundreds of amazing people that are united by one common goal - to change their worlds!"
Thane Bryenton who recently brought RelyLocal to Olympia, WA, notes, "This opportunity came at just the right time; between jobs and hard economic times in our city. RelyLocal is really giving me and my community the hope and promise of better times to come."
# # #