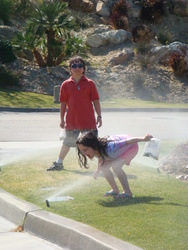 Mom look...it's a Hell-of-a-Cocker (Helicopter)
West Bloomfield, MI (PRWEB) July 13, 2010
Now parents, relatives and friends from across the nation don't have to feel like they're the only ones going insane as they post their hysterical, embarrassing and downright shocking stories on HeardonthePlayground.com.
The founder and CEO, Andrea Sherr, started the site because she saw an opportunity to take all the funny kid sayings and cute pictures exchanged in school hallways or at family dinners and create a national stage where everyone could share the laughs. This little idea sprouted into HeardonthePlayground which launched in January of 2010 and has already become the largest collection of funny kid sayings on-line.
The site has cute sayings and hilarious pictures from across the nation making parents and anyone who knows a child feel right at home. It's not uncommon to find hilarious quotes like "Daddy you cut my fingernails too short and now it's harder to pick my Boogers" ; "Mom look...it's a Hell-of-a-Cocker (Helicopter)" ; "Religious Teacher: What do you want to thank God for? Student: Bathrooms"; "Son: I've been stung by a jellyfish Mom: How do you know? Son: It had huge testicles (tentacles)" ; "Mom, am I the Loot of your Groin? (Fruit of your Loin)"
Developing and running the site has resulted in many unexpected challenges, none of which any typical CEO has ever had to face. Andrea Sherr has dealt with kids screaming in the background during business calls; Taking notes during an unexpected conference call with a purple crayon at a water park; Surviving a 2 yr old using her body as a jungle gym at meetings; Withstanding emotional blackmail from her 9 yr. old who asks if she loves the computer more than him; And waking up at 3 am to her husband asking what her revenue model is. The normal office politics and stress pale in comparison to what this CEO has had to face just to launch her site.
In the end, Andrea Sherr says it's all worth it. She gets numerous cute quotes and funny photos every day that crack her up making this the best job she could ever imagine having. One of her favorite stories is the following: "The new 1st grader from Scotland asked his teacher for a rubber? Flustered the teacher phoned his Mother. The Mother couldn't imagine why the teacher didn't have a rubber either. It turns out in Scotland a rubber is an eraser."
Other unique features that really make this site stand out are the Virtual Gifts (V-Gifts) and URL Links. V-Gifts are pictures of a child's artwork (either uploaded by the sender or chosen from the site's gallery) attached to a funny kid saying and wrapped like a gift. Never again do parents have to hide these masterpieces on the refrigerator door (or worse in the trash can). Children's artwork can now be forever immortalized on the internet and shared across the nation.
Another feature highly attractive to Bloggers and Freelance Writers is the URL link. By posting Funny Kid Sayings and/or Hilarious Pictures, Bloggers and Freelance Writers can have a URL link show up with their post directing viewers to their site or written material. The URL link lets them gain national exposure to a large audience while providing viewers with a good laugh.
Though still relatively new, HeardonthePlayground.com has enjoyed great success from hundreds of Parents, Freelance Writers, Mommy Bloggers and many others who are excited to finally be able to share their humorous stories.
For more information contact Andrea Sherr by phone at (248) 762-4321 or by e-mail at HontheP(at)Comcast(dot)net.
###