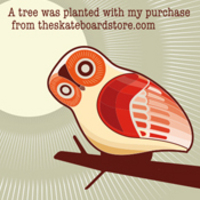 Bend, Oregon (PRWEB) July 1, 2010
The Longboard Store began as a suburban neighborhood garage business during the spring of 2006, and grew quickly to become the largest retailer of longboard skateboards. "Our opening inventory was a few longboards my wife purchased during a road trip through California" says Scott Seelye, co-owner of The Longboard Store. Nowadays, the matured online company operates from a 2200 square foot warehouse, stocked with thousands of longboards and longboarding equipment.
Skateboards share many of the same components that are used in longboards, which made the creation of TheSkateboardStore.com an obvious addition. TheSkateboardStore.com will be presented in the company's popular fashion; an ultra-clean website with simple navigation, in-house photos of products, and uncommonly quick shipping. And, just like the longboards, all the skateboards are custom built to order.
The Skateboard Store will also continue the tradition of planting a tree with the purchase of every complete skateboard. The company has donated over 6000 trees so far, and expects to top all previous donations this year.
The Skateboard Store and The Longboard Store are owned by Scott and Jennifer Seelye. Both online stores are managed by Gordon Boehm. Details on The Skateboard Store, may be found at http://www.theskateboardstore.com or by calling (541)-306-6829.
The Skateboard Store
20810 Sockeye Place #110
Bend, Oregon 97701
P: (541) 306-6829
http://www.theskateboardstore.com
# # #