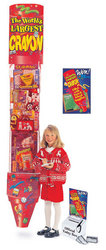 "What better way to reach out to new customers, generate traffic and increase sales than with a giveaway?"
Dallas, Texas (PRWEB) July 2, 2010
The Back to School shopping season has become one of the top three busiest retail traffic events for many retail stores. With the US economy still recovering, many businesses are looking for a way to get more potential customers into their stores without breaking their advertising and marketing budgets.
The Giant Crayon Sweepstakes from Bagwell Promotions offers a turn-key promotion that includes entry blanks, an entry box and the Giant Crayon giveaway. Available in a six foot or eight foot promotion, the crayon is stuffed with the cool toys that kids want –plus an assortment of back to school supplies. Details are available on the web site http://www.bagwellpromotions.com/back-to-school-promotion.html .
Bagwell Promotions has offered a similar promotion, the Giant Christmas Stocking, over the years. Now, with the addition of the Giant Crayon, businesses have a promotion for the end of summer.
John Bagwell, President of Bagwell Promotions, says "While back to school does not generate the excitement of Christmas, what better way to reach out to new customers, generate traffic and increase sales than with a giveaway?"
Bagwell Promotions, http://www.BagwellPromotions.com, offers promotional items year round for all kinds of businesses, but the toy giveaways are some of the most popular.
According to Bagwell, retail stores and family style restaurants are the largest purchasers of the promotion, although it works well for any business that caters to people with small children. Other business that use the program include , car dealers, rent-to-own stores, grocery stores, convenience stores, credit unions and banks and health care providers such as dentist and doctors.
When planning early for promotions, business owners should verify that all tools necessary to hold a successful giveaway are included. Bagwell Promotions makes giveaways easy by including entry blanks to document contact information of the participants, a registration box, colorful posters to promote the contest and a press release packet.
Business owners can use promotions year round as mailing list generators, collecting vital information about customers for marketing purposes, such as a customer retention or prospect tool.
Bagwell Promotion also offers a number of other Back To School Promotional items. Many items can be imprinted with a logo, company name or message. Details are at http://www.bagwellpromotions.com/backtoschool .
About Bagwell Promotions:
Bagwell Promotions offers over 500,000 imprinted promotional products from 4,100 suppliers such as coffee mugs, pens, flashlights, magnets, ID bracelets, key chains and an assortment of apparel.
Contact:
John Bagwell
1-866-281-8830
# # #