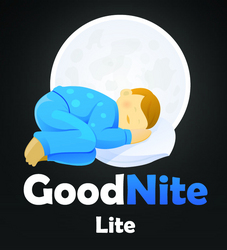 The Good Nite Lite is Parent Tested Parent Approved!
Alpharetta, GA (PRWEB) July 1, 2010
The Good Nite Lite has been awarded the Parent Tested Parent Approved Seal by PTPA Media. PTPA Media (Parent Tested, Parent Approved) awards their industry-renowned seal of approval to products that its parent evaluators judge to improve the quality of family life and worthy of a parent's recommendation.
"Our goal is to provide you with products that have all been tested by Parents. We know you work hard for your money, so why not spend it on products that have gone through the most rigorous of testing, not in a lab, but in our own homes with our families." said Sharon Vinderine, CEO, PTPA Media Inc.
The Good Nite Lite is a parenting tool that helps the whole household get more sleep. Young children tend to have their own sleep schedules, which unfortunately, don't always coincide with the rest of the household. The Good Nite Lite is designed to reset a child's sleeping patterns by using a simple sun and moon approach - symbols that are easily understood by young children.
When the Good Nite Lite's programmed moon caricature comes on, it teaches children that its time for bed - even if the natural sun is still out. At the pre-set time, the Good Nite Lite will brighten and display a cheerful Sun caricature, letting the child know that it is an acceptable time to get out of bed and begin the day.
"We are absolutely thrilled to have the Parent Tested Parent Approved Seal on the Good Nite Lite" said inventor Adam Nelson. "Thanks to PTPA Media and all of the parent testers for this recognition and recommendation."
PTPA Media provides an objective means to discover and appraise new products designed to enrich family living. The company's mission is to assist and educate discerning consumers by providing reliable and relevant information about exciting and quality products on the market. The Parent Tested Parent Approved Seal is presented to companies whose products are deemed exceptional by a knowledgeable and unbiased panel of experts, including parents themselves. Award winning products are selected based on value, functionality, quality and appeal.
The Good Nite Lite has also recently been featured on CBS's The Doctors episode "50 Ways to Improve Your Health in Less Than 5 Minutes" and ABC's The View "Staff Product Picks" segment.
About Good Nite Lite LLC.
Based in Atlanta, GA, Good Nite Lite, LLC is the exclusive manufacturer and distributor of Good Nite Lite. For more information, visit the company's Web site at http://www.GoodNiteLite.com
###