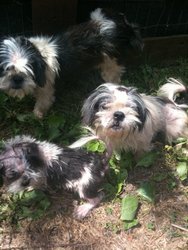 It's great to be able to help these animals and the shelters that are clearly suffering the trickle down affects of the oil spill
Arlington, VA (PRWEB) July 2, 2010
Lost Dog and Cat Rescue Foundation picked up 12 dogs that had been transported by The Humane Society of the United States. The dogs were brought up from Plaquemines Animal Welfare Society and St. Bernard Parish Animal Shelter, along with 21 others that went to other area groups. Both Louisiana Shelters have seen a dramatic increase in the number of both surrendered and stray animals they are receiving since the Gulf oil spill. Three of the dogs LDCRF took in were given up by a fisherman who lost his job due to the oil spill, and could not afford to take care of the dogs any longer.
"It's good to save any dog anytime, but you get a warm feeling when you know you're saving them from a bad situation, or from places where you know the people really need the help. Being able to take in some of the dogs with health issues that we can treat is especially rewarding, as you're really giving them another chance. Several of these dogs are heartworm positive and have a skin condition, but that's no reason to turn them away as those conditions are easily treated," says Adoptions Coordinator Barbara Hutcherson.
"It's great to be able to help these animals and the shelters that are clearly suffering the trickle down affects of the oil spill," says founder Pamela McAlwee.
Some of the dogs will go up for adoption in the coming days, while the dogs that are receiving treatment for health issues will go up for adoption in the next few months.
Please visit our website to see the dogs available for adoption and receive updates on those that have arrived from the Gulf Coast.
###