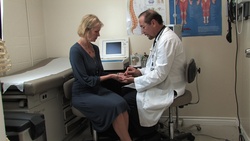 My goal is to always meet and exceed the expectations of my patient and referring community physician."
Arcadia, CA (PRWEB) July 2, 2010
API and the new pain treatment center are located at 638 West Duarte Road, Suite 18, Arcadia, California 91007. The Los Angeles area pain management clinic supplements the existing Encino Surgical Medical Center, which serves the San Fernando Valley and provides patients and physicians in the Los Angeles area a convenient local site and technologically advanced facility. Dr. I Michael MineHart, a well-known interventional pain management specialist, performs pain management procedures and consultations for San Gabriel patients and referring physicians.
The 1,000 square foot expanded center features a new treatment, reception/waiting room, procedure rooms and a patient post procedure recovery area. The design of the center maximizes staff efficiency while increasing patient privacy, comfort and convenience. Additional amenities are at-the-door parking and convenient ground floor access.
"I am delighted to open this expanded pain treatment space in my Arcadia office," commented Doctor MineHart, "Many patients and physicians have asked that I perform interventional pain management procedures here at our Arcadia location and I am happy to do so. My goal is to always meet and exceed the expectations of my patient and referring community physician."
The Advanced Pain Institute (API) was founded in 1990 by I. Michael MineHart, M.D. to meet the needs of a growing segment of patients seeking relief from severe pain. Dr. MineHart is a board certified anesthesiologist specializing in interventional pain management for the treatment of chronic pain. Dr. MineHart's goal is to develop and provide the most effective therapy plan for the treatment of pain. His extensive training in advanced pain management combined with state-of-the-art techniques has enabled him to successfully diagnose and treat patients suffering from a variety of conditions.
API provides the latest techniques and innovative procedures to help patients improve their quality of life. It also offers innovative interventional pain management modalities in pending pharmaceutical research studies, while managing recurring challenges associated with pain. Patients experience quick and sustaining relief while referring physicians are reassured of better outcomes for their patients.
Advanced Pain Institute offers specialized treatment for neck and back pain, sciatica pain, arthritis pain, fibromyalgia pain, post surgical pain, pelvic pain, and other treatments to help patients delay or avoid costly and risky surgeries.
View a video of Advanced Pain Institute.
###