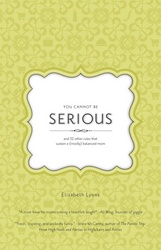 When it comes to raising children without completely losing your mind Elizabeth Lyons wrote the book, literally. --Cool Mom Picks
Phoenix, AZ (PRWEB) July 14, 2010
As though motherhood wasn't challenging enough, the current economic climate is sending many moms into a tailspin.
According to a recent USA Weekend article by Jean Chatzky, "Since December 2007, men have accounted for three-quarters of all job losses." In many of those cases, women have had to either trade their stay-at-home mom status for a full-time job, or increase their hours to bridge the gap.
The added pressure this reality places on a family can't be underestimated. Elizabeth Lyons -- author, entrepreneur and mother (of 5) -- teaches moms that acquiring and sustaining balance in such circumstances requires little more than a modified perspective combined with a back-to-basics approach to motherhood.
"I used to look to all the wrong people and places to find balance as a working mom," says Lyons, who just released her third book titled, You Cannot Be Serious: and 32 Other Rules that Sustain a (Mostly) Balanced Mom. "Now, dozens of self-help books and therapy sessions later, I realize that, ironically enough, I've had everything I needed to create and sustain work-life balance all along."
According to Lyons, there are 5 rules moms can easily implement to instantaneously have greater work-life balance as well as an ability to honor and nurture themselves -- not only as moms but as women with unique qualities to offer the world.

Fly Your Freak Flag High
Choose Happiness
Cleanliness is Overrated
Give Yourself the Little Blue Box
Have No Expectations (but Expect the Unexpected)
Bio:
Elizabeth is many things: mom, wife, friend, lunch maker, chauffeur, hostage negotiator, author, on-call plumber, tile layer, guitar student, window washer, product designer, and on and on.
One thing she is not is Superwoman.
She simply demands the right to do things her way—a way that often defies even the most creative imaginations—and she strives to inspire others to do things their way (once she helps them figure out what their way is!).
Elizabeth lives in Phoenix, Arizona with her husband, five kids, two dogs, two fish, four barely surviving organic gardens, and whatever (or whomever) else has taken up residence with them in the last five minutes.
###