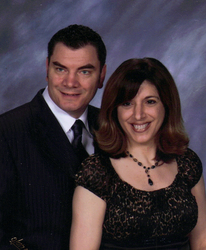 Albany, NY (Vocus) July 6, 2010
After returning from his first tour of duty in Iraq to Fort Drum, New York, SFC H. Daniel Tulip learned he had cancer of the bladder. His wife Marcie moved into action as his emotional rock, supporting him daily and opting to postpone a major surgery need of her own in order to care for him. After surgery, he was deployed the second time, and then a third time. As a cancer survivor and combat soldier, he took on another challenge during this third deployment: pursuing his college degree with Excelsior College. Back home, his wife remained his base of faith and encouragement.
"I not only survived cancer, I survived the emotional trauma of spending three-and-a-half years in combat, a feat I would have never been able to endure without the support of my wife," said Dan Tulip, now retired. "And it was a lifetime goal, to complete my degree before retiring from the military, to be more successful in the civilian world." Now retired from the Army, Dan Tulip is a candidate for the Troops to Teachers program.
During his third and final tour, Dan set his sights on a personal goal: completing that college degree. He earned his Bachelor of Science in Criminal Justice from Excelsior College, and will travel from Greenville, Pennsylvania to march in a traditional Commencement ceremony for nontraditional students on July 9, 2010 in Albany, New York. His wife and their blended family of six sons, ages 12-29, and other relatives, will be in attendance to cheer him on.
Dan is this year's recipient of Excelsior's Robert P. Mahoney Award, which honors graduates who completed their education against remarkable odds. Marcie Tulip will also receive the Excelsior Student Support Award, for her extraordinary support of his educational goals, his health challenge, and his military service.
Hundreds of other military and civilian students, nearly all of them working adults, will cross the stage at Albany's Empire State Plaza on July 9. Among them is an alumnus who is now a physician and professor of endontics in New Jersey, Dr. Jeffrey Stewart. Dr. Stewart, an alumni award recipient, will escort his mother, 63-year-old Nancy Stewart, as she celebrates completion of her associate degree in nursing. After five decades as a licensed practical nurse, she earned her degree and passed the national licensing examination for registered nurses (NCLEX). She will continue working for hospice, now as a registered nurse.
Excelsior College President John Ebersole said, "Military graduates are among those who impress us the most each year, but their achievements are no less remarkable than those of our civilian graduates who have also overcome daunting obstacles to attain their degrees. Education is vital not just for career advancement and credentials, but for enhancement of our knowledge of the world and of ourselves. Learning enriches us, our families, our jobs, and our communities."
Excelsior College graduates have stories large and small, but each had a common goal: to complete a degree in higher education. Since 1971, Excelsior has been serving the educational needs of adult students through distance learning options such as transfer of certain prior learning credit, credit by examination, and in the last decade, through online classes. Excelsior offers degree programs in its schools of Nursing, Health Sciences, Liberal Arts, and Business and Technology. The Center for Professional Development provides programs for students seeking a non-degree track toward certification and education in various career fields.
Graduates will hear a keynote address from U.S. Under Secretary of Education Martha Kanter; she and Congressman John Lewis of Georgia's fifth district, an outspoken civil rights leader since the 1960s and powerful force in Congress who will also speak, will each receive honorary degrees for their public service.
Each year, despite a distance education model that finds students and many faculty dispersed around the country and the world, Excelsior's Commencement activities in Albany, NY are a magnet for hundreds of graduates, their friends and families – including young children who see mom or dad in a cap and gown – who travel here from around the country. The three-day event allows students to meet many of the 425 Albany-based Excelsior employees who are keys to each graduate's success.
Festivities take place on July 8-10 in Albany, at the Desmond Hotel, Excelsior College and the Empire State Plaza.
At Excelsior College:

The average graduate is a working adult of age 38 who has balanced career, family and college studies.
Thirty percent of the 2010 graduates are members of the U.S. military.
Thirty percent of the 2010 graduates represent themselves as members of minority groups.
This year's Commencement week activities will include a ceremony marking establishment of a student chapter of IEEE, an international association for the advancement of technology.
In 2011, Excelsior will begin celebrating its 40th anniversary with a series of events marking the College's success in serving the needs of adult students who have traditionally been underserved by higher education.
Excelsior College http://www.excelsior.edu is an accredited, nonprofit distance learning institution that focuses on removing obstacles to the educational goals of adult learners. Founded in 1971 and located in Albany, NY, Excelsior is a proven leader in the assessment and validation of student knowledge. It offers more efficient and affordable access to degree completion through multiple avenues: its own online courses and college-level proficiency examinations, and the acceptance in transfer of credit from other colleges and universities as well as recognized corporate and military training programs. Excelsior College is accredited by the Middle States Commission on Higher Education.
###