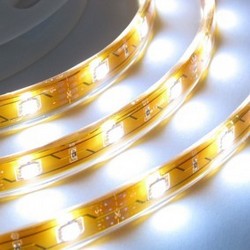 San Francisco, CA (PRWEB) July 6, 2010
Elemental LED, a San Francisco-based LED lighting company, is proud to announce the launch of its new updated website. The shift comes in response to the company's increasing roster of custom-made LED lighting products, as well as its goal to provide consumers with the friendliest shopping experience possible. "The website was designed entirely with customer interests in mind," says Elemental LED CEO Max Darling. "It allows customers to find what they need quickly, while also learning about the products as they go. The interactive elements provide them with a creative LED forum that offers inspiration, knowledge and a sense of community."
The result is more than just a shopping experience. The new website design addresses common user issues and makes information accessible but not overwhelming. The navigation system is intuitive and easily customized to each individual customer's needs, while the LEDucation section provides visitors with solution-based interaction targeted at do-it-yourself (DIY) projects.
Some of the new features on http://www.elementalled.com include

Shop by project or by item: While the website continues to offer a complete, easy-to-navigate catalogue of Elemental LED product inventory ("Shop by Item"), it now also offers a "Shop by Project" option. Perfect for first-time buyers (or returning buyers with a new project in mind), this feature categorizes products based on how they can be used to outfit a specific space or concept. With added tabs like, "Suggested Accessories," "FAQs," "Tech Specs" and "Reviews," this feature facilitates a versatile range of projects by making it easy for customers to recognize and assemble all of the components needed to complete a job.
Special Orders: Users can submit special requests for custom products/projects, order wholesale items at reduced rates or request samples for a larger project through Special Orders.
LEDucation: In this section, customers can get involved in the LED community on a deeper level. Through LEDucation, they can browse LEDIY videos submitted by Elemental LED customers, or post their own video that showcases their LED innovation. Meanwhile, they can also get all of their product-related questions answered and learn how to install their latest purchase. LEDucation allows for customer reviews and feedback from Elemental LED staff.
Through its new website design, Elemental LED has achieved the goal of becoming the most customer-friendly LED retailer on the web. Check it out for yourself at http://www.elementalled.com.
About Elemental LED
Elemental LED is founded on the belief that everyone has the right to stylish, energy efficient LED Lights. LED lighting technology is the safest, hippest, and most energy efficient way to light up our world. Let us light the way! Visit us at http://www.elementalled.com.
# # #