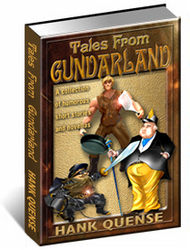 Tales From Gundarland delivers nonstop action and laughs with an intriguing pinch of romance. The unique stories, strong characters and multiple plots carry from story to story and page to page. Brian Knight
Bergenfield, NJ (PRWEB) July 7, 2010
All the stories in the collection take place in mythical Gundarland. It's is populated by humans, dwarfs, elves and other races. Gundarland is the backdrop for unique adventures, brilliant heroes and cunning villains.
This collection of humorous short stories and novellas is now available in print, Kindle and ebook editions.
Here is a list of the stories and a brief synopsis of each:
Romeo and Juliet: Romeo, a dwarf miner, and Juliet, the elfin daughter of a rich gem merchant, have a rocky courtship because Juliet's brothers are avowed enemies of Romeo's family.
Chasing Dreams: This novella tells the story of twin yuk brothers on their journey from strong-armed thugs to highway robbers to bawdy house owners to politicians. The brothers are plagued and harassed by vigilantes. 
Boggerts Blue: A warrior-cook seeks to rescue a kidnapped princess.  She refuses to be rescued by someone who isn't noble-born.
The Big Bang: A wizard has to eliminate a dragon and his minions.  Along the way to complete his mission, he is tested by a shape-changer and a pair of trolls.
The Queen's Hero: This novella is about a young tinker-warrior as he struggles to save his Queen from a pirate admiral trying to overthrow her and become king.
The Queen's three beautiful daughters have their own plans for the young hero.
Merchant of Venison: A dwarf butcher borrows money to help his best friend and soon regrets it.  The dwelf money lender has bloody ideas about the default payments.
Inter-Racial Musical Playoffs: A few greedy wizards attempt to fix a musical competition.  Other wizards try to protect the band leader who is favored to win the competition.
Tactical Surprise: A general develops unusual tactics to defeat a rebel army.  The enemy leader is a close family friend making the general's decisions more difficult.
"Hank Quense is at it again. He's sharpened up his satirical pen to let the hot air out of the greedy, the power-hungry, and maybe the rest of us. And therein lies a tale…or several. These action-packed, exciting adventures are laced with humor that will have you snickering, if not falling off your chair laughing. What delicious fun." Jan Clark
"Tales from Gundarland is a magical escape into a world of quirky and colorful characters. The author, Hank Quense, writes satirical spin-offs from traditional tales and cleverly blurs the archaic gender stereotypes." Lynn Coyle
The book is filled with humorous fantasy stories including two retellings of Shakespeare's most famous plays.
Hank Quense is the author of three previously published books. Two, Fool's Gold and Tunnel Vision are fiction while Build a Better Story is non-fiction.
###