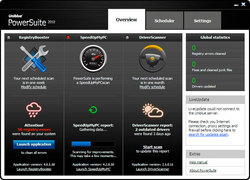 (PRWEB) July 7, 2010
PC performance leaders Uniblue, have released the PowerSuite range of software in 17 languages. PowerSuite is a powerful combination of all three Uniblue utilities in one, simple-to-use interface. Each utility included in the suite; RegistryBooster, SpeedUpMyPC and DriverScanner can be purchased individually, or users can purchase PowerSuite as a powerful solution to combat PC speed issues, registry errors and outdated drivers.
Following the release of the software in 5 languages in Q4 2009 and seeing the results, the decision was taken to increase the number of languages in which the software is available. SpeedUpMyPC was launched in a further seven languages in March, and this was followed by PowerSuite in April. The company is committed to expanding its global reach and has now launched the whole range in a total of 17 languages.
The software is now available in: English, French, German, Italian, Spanish, Portuguese, Dutch, Danish, Swedish, Norwegian, Finnish, Polish, Russian, Greek, Turkish, Brazilian Portuguese and Japanese.
Uniblue is currently recruiting a number of people with excellent language and marketing skills to work in "Country" teams managing each new territory. The roles will be based at Uniblue's HQ. Uniblue saw steady growth during the global economic downturn, and now is looking to achieve new global sales records in 2010.
Resources and Material:

PowerSuite 2010 is available as a download from Uniblue's website as well as from many other sites worldwide. PowerSuite 2010 costs $59.95 to buy with one year of ActiveProtection including support and updates. Each license is valid for use on up to three PCs.
For more information about PowerSuite, please visit the product information page on the Uniblue website: http://www.uniblue.com/software/powersuite/
Not for Resale review copies are available from Hilary Rogers, PR Manager, Uniblue: hilary(dot)rogers(at)uniblue(dot)com.
About Uniblue Systems Ltd:
Uniblue Systems Ltd is a Microsoft Gold Certified provider of award-winning software products designed to deliver superior performance and stability to PCs everywhere. The company has achieved top rated reviews for its products, including PowerSuite, RegistryBooster, SpeedUpMyPC and DriverScanner. Uniblue software is now available in 17 languages. Uniblue is also a winner of 3 consecutive ICE awards.
Uniblue also provides the acclaimed processlibrary.com, ProcessQuickLink, ProcessScanner and filext.com resources; free services for all PC users, as part of its program of public education in the battle against computer threats and performance deterioration.
Press Contact
Hilary Rogers (PR Manager)
Uniblue Systems Ltd, Orange Point, Dun Karm Street, B'Kara By-Pass, Birkirkara BKR9037, Malta
Tel: +356 2327 5000
Web: http://www.uniblue.com
###