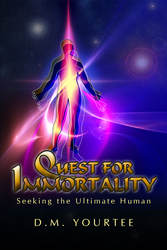 Who's Who in Science and Engineering.
Pittsburgh, PA (Vocus) July 8, 2010
This story unfolds in a country steeped in terrorist cruelty and merciless killing. Driven to understand the spark of wisdom and hope he sees in a survivor, a visiting doctor travels to a remote African village deep in the forested mountains. There he finds an awe-inspiring teacher, a defender of children and tolerance, and discovers through her words humankind's, essential, final agenda.
Drawn from a Fulbright's diary, this account is an answer-driven journey into our uncertain but promising future. It is a vital account, offering an unyielding realistic path to achieve human immortality.
About the Author
D. M. Yourtee is a highly respected teacher and scientist. Before retirement he was an honored member of the faculty of the University of Missouri, Kansas City. In addition to the Fulbright, his accomplishments may be found in "Who's Who in Science and Engineering." He is a cited author in well over two hundred publications in toxicology.
D. M. Yourtee has a long history of NIH grants and development of many new Ph.D.s through his graduate research program in pharmacology and toxicology. His Medical Mission in Africa concerned tracing the chemical cause of endemic liver cancer in much of the developing world.
RoseDog Books is pleased to announce the publication of Quest For Immortality: Seeking the Ultimate Human ($30.00) ISBN: 978-1-4349-9784-5, paperback. For more information, please contact RoseDog Books, at 701 Smithfield Street, Pittsburgh, PA 15222. To place a book order or to learn important information about shipping prices, tax, and our return policy, please call (800) 834-1803.
###