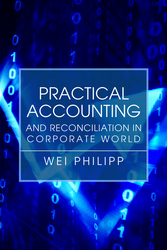 Pittsburgh, PA (Vocus) July 8, 2010
This book is organized by account structures and standard operational processes. The chapters are intended to follow the corporate essential business flows, providing a reference framework in understanding the relationship and interaction between accounting, business operation, and processing systems. It offers bridging on business structure, accounting flows, and related process improvement and internal controls.
Practical Accounting and Reconciliation in Corporate World also expands the generic view of accounting and tailors to the demands of complex corporate structure, illustrating solutions for specific business scenarios and circumstances, while integrating the corporate system interface structure. No matter what industry or product, there are underlying seams of accounting flows that track the business transactions. This book provides insight into account reconciliation concepts in real business scenarios, and introduces advanced level standardized accounting debits and credits in operation cycles, including revenue recognition and billing, cash operations and cash applications, account payable and monthly expenses, unbilled accounts, other liabilities, and deferred revenue accounting.
About the Author
Wei L. Philipp is a Certified Public Accountant in New Jersey, and has combined experiences of accounting, auditing, reconciliation and reporting in large American corporations for a decade. She holds Master's Degree in Accountancy from Northern Illinois University in 1997. Her passions include education and communication of transforming concepts and ideas.
RoseDog Books is pleased to announce the publication of Practical Accounting and Reconciliation in Corporate World ($10.00) ISBN: 978-1-4349-9620-6, casebound. For more information, please contact RoseDog Books, at 701 Smithfield Street, Pittsburgh, PA 15222. To place a book order or to learn important information about shipping prices, tax, and our return policy, please call (800) 834-1803.
###