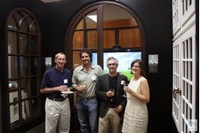 Charleston, S.C. (PRWEB) July 9, 2010
Local architects gathered at the Southern Components, Inc. showroom in Charleston as the window dealer unveiled its new line of Montag Windows and Doors. The launch event officially opened Southern Component's new exhibit space dedicated to showcasing the ultra-luxury line of Montag windows and doors manufactured in Biberach, Germany. Southern Components is one of the first dealers on the Atlantic coast to offer Montag's exclusive line of mahogany windows and doors.
"The Montag launch event was a tremendous success, with some of the top architects in the Charleston area attending and seeing the product for the first time. We look forward in building a relationship with Montag and representing the product to our clientele," says David Epstein, president and owner of Southern Components.
German manufacturer Montag Windows & Doors (http://www.montagwindows.com) is the oldest window manufacturer in the world, with a history of quality and exquisite craftsmanship dating back to 1728. Southern Components has joined Montag as part of the Dealer Network Alliance Program and will be representing the company throughout the Carolinas, Georgia and northeast Florida. In addition Southern Components represents Montag in the Atlanta marketplace.
ABOUT MONTAG WINDOWS & DOORS
Founded in the southern German village of Biberach in 1728, Montag Windows & Doors crafts superior windows and doors for its most discerning group of clients. From its humble beginnings in a small workshop, to its present-day state-of-the-art fabrication facility, Montag has preserved its nearly three century tradition of master craftsmanship in the creation of the finest high performance luxury windows and doors available in the marketplace.
As part of its international expansion, Montag Windows & Doors also operates its U.S. marketing and distribution facility in Roswell, Georgia. From this location, Montag is equipped to meet the needs of architects, builders, developers and homeowners throughout the Americas. For more information on Montag Windows & Doors, please visit http://www.montagwindows.com or call 866-562-1728 ext 701.
ABOUT SOUTHERN COMPONENTS
Southern Components, Inc. (southcomp.net) has been supplying residential and commercial windows, doors, cabinetry and custom millwork to the Charleston area for more than 15 years. The company offers a variety of top-of-the-line products from industry-leading manufacturers as well as custom millwork solutions crafted in the company's own workshop. Southern Components' professional staff has more than 100 years combined experience in windows, doors and cabinetry sales and construction, and the team is passionate about designing and providing products that fit each client's unique taste, budget and environment. For additional information, visit http://www.southcomp.net.
# # #