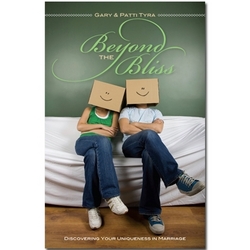 Marital bliss has all the staying power of a Fourth of July sparkler.
Colorado Springs, CO (PRWEB) July 9, 2010
Marital bliss is not all it's cracked up to be. Oh, sure, it's great while it lasts, but therein lies the problem—marital bliss has all the staying power of a Fourth of July sparkler.
Long-lasting, transformational marriages rely on more than passion to thrive, say authors Gary and Patty Tyra in Beyond the Bliss: Discovering Your Uniqueness in Marriage (Biblica Publishing, $14.99, paper, ISBN:9781606570401). "The cultivation of truly healthy, transformational marital relationships is of huge importance, not only to married couples themselves, but to society at large. One of the most important, missionally beneficial things Christians can do is to model for their respective communities what truly healthy, long-lasting marriages look like," the Tyras say.
The Tyras draw on noted psychologist and author M. Scott Peck's premise that life is difficult and problems inevitable. Healthy people learn four essential life disciplines to deal with them: delayed gratification, owning responsibility, dedication to truthfulness, and balance.
Applying these disciplines to marriage is hard work, requiring sacrifice and some suffering, say the Tyras. Yet it's only through applying the disciplines that spouses grow as individuals and couples to reach their full potential in Christ.
Beyond the Bliss explains the four life disciplines in detail in Part 1, then applies them in Part 2 to major marital issues—communication, money management, division of responsibilities, in-laws, and sex. A liberal smattering of real-life illustrations helps flesh out the concepts. Each chapter ends with questions for reflection.
An outstanding, thoughtful, and realistic guide for couples willing to do the hard work necessary for strong, lasting marriages, Beyond the Bliss is equally helpful for singles contemplating marriage or simply interested in spiritual transformation.
Gary Tyra (D. Min., Fuller Seminary) serves as the Chair of Vanguard University's Department of Religion and as Associate Professor of Biblical and Practical Theology. An ordained Assemblies of God minister, he has served as the senior pastor for three churches. Patti Tyra (M.S., Vanguard University) is a public speaker and writer working as a family therapist intern while earning a graduate degree in clinical psychology. The Tyras live in California and have two adult children, Brandon and Megan.
About Biblica
Celebrating more than 200 years in ministry, Biblica provides God's Word to people through translation, publishing, and Bible engagement. Biblica's ministry extends worldwide, with outreach in 55 countries. Biblica has translated the Bible in more than 100 languages and is the translation sponsor and ministry publisher of the New International Version® (NIV®) of the Bible, the most widely read and trusted contemporary English translation. Through its worldwide reach, Biblica engages people with God's Word so lives are transformed through a relationship with Jesus Christ. For more information, visit http://www.BiblicaDirect.com.
# # #