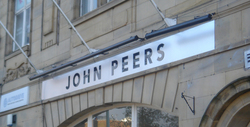 (PRWeb UK) July 9, 2010
Signs Express (Huddersfield) helps BBC tv's Mary Queen of Shops work her magic to transform 80s hairdressing icon John Peers' business back to its former glory.
In this latest episode, Mary visits Rochdale-based hairstylist John Peers who is in need of his own business makeover to help him compete in the local salon wars.
As part of the shop's revamp, Signs Express (Huddersfield) was contacted by the makeover team to produce a shop fascia to bring a contemporary classic feel to the hair salon and the John Peers brand. By using flat cut acrylic lettering bonded to the base with VHB tape to raise the lettering slightly, the shop sign was given a three dimensional feel.
Working to tight deadlines, Martin Davis and his team worked with a previous customer of the Signs Express group, Sheridan & Co, who was charged with the job of giving the salon the ultimate re-style. Lisa LoGalbo of Sheridan spoke at the time the work was carried out describing the service as 'fantastic, especially with tight budget and time restraints!'.
###