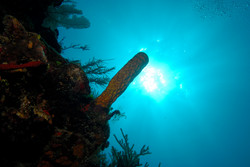 With recent events it is now more important than ever that people realise how beautiful and precious our marine life is, and what better way to appreciate the wonders of the sea than immerse yourself in it
San Francisco, CA (Vocus) July 12, 2010
The Lodge at Chaa Creek, Belize's adventure vacation specialist, is promoting marine ecology awareness by offering exciting new Caribbean Sea snorkelling packages designed to show divers of all ages and levels of expertise the underwater wonders of Belize's famous barrier reef and cayes.
"With recent events it is now more important than ever that people realise how beautiful and precious our marine life is, and what better way to appreciate the wonders of the sea than immerse yourself in it," Chaa Creek owner and GM Lucy Fleming said in announcing the packages.
The world heritage listed the Belize barrier reef as one of the most diverse ecosystems in the world, made up of over 100 coral species and home to some 500 species of fish and hundreds of invertebrates. As far back as 1842 Charles Darwin called it, "the most remarkable reef in the West Indies", and it is no less stunning today.
Scattered along the 170 mile living coral reef are nearly 200 small islands, or cayes, some mere sandy specks and others containing fresh water wells and their own remarkable mini ecosystems. One experienced diver recently described a visit to them as "stepping back to what exploring the Caribbean must have been like two hundred years ago."
While scuba diving is on offer throughout Belize's Caribbean coast, many people prefer the ease and freedom of snorkelling in the warm clear tropical waters and remark that many of the most beautiful underwater scenes are to be found in the better lit and more abundant shallower waters accessible by snorkelling. Snorkelling is also an activity that entire families, from young children to grandparents, can enjoy together, while more experienced and fit divers can find many challenges along the reef.
The Lodge at Chaa Creek can tailor individual reef experiences, but their affordable, all inclusive vacation packages are designed to present the best of the Caribbean in an exciting yet hassle-free manner. A complete one day snorkelling package is available as part of the popular Optimum Maya Gold Package, or as a stand-alone excursion.
Either way, the comprehensive snorkelling excursion begins with a drive along the lovely Hummingbird Highway over the Maya Mountains and down to Belize's southern coast to the traditional Garifuna town of Dangriga, from where guests set out to picturesque and unspoilt South Water Caye for a full day of reef snorkelling, swimming, beach combing and delicious island food. In the afternoon, guests have their choice of more snorkelling or bottom fishing before heading back to the coast for the beautiful return trip to Chaa Creek.
In addition to this snorkelling-centred tour, all of Chaa Creek's surf and turf and affordable island excursion packages offer snorkelling, as well as instruction for those with little or no experience. The point, according to Ms Fleming, is to promote ecological awareness by helping guests experience Belize's Caribbean attractions.
"We feel that the best way to protect our environment is immerse people in it - to make them aware of its incredible beauty and diversity. We want to ignite a passion that visitors, especially young people, will carry with them for life. This is something that not only enriches individuals, but contributes to a global awareness of just how valuable – and beautiful – our seas are," she said.
For more information about The Lodge at Chaa Creek, toll free USA 877-709-8708, UK 0-207-096-0329, Belize 501-824-2037 reservations[ atchaacreek.com or visit the web site at http://www.chaacreek.com.
###