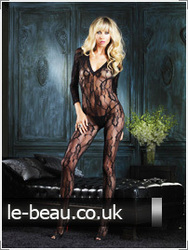 How does one garment provide so much?
(PRWeb UK) July 15, 2010
Whether it's to excite and indulge someone special or just to add a sexy little edge to an otherwise everyday outfit, there is no doubting the universal appeal of these incredibly versatile little numbers.
Andrew Brown, creator and managing director of Lea Beau lingerie was quick to realize that bodystockings were an essential addition to any sexy wardrobe and has ensured that what Le Beau has to offer is as diverse, exciting and engaging as possible, all at highly competitive prices.
The result? A fantastic opportunity for customers all over the world to purchase Le Beau's high quality sexy bodystockings without breaking the bank.
One of Le Beau Lingerie's biggest selling categories and for good reason - they are an obvious choice that flatters all shapes and sizes and the extensive catalogue of products available offers erotic attire with a big appeal at very low cost.
Aschildren we were incapable of understanding how the thermos that accompanied us on every family outing managed to keep juices and cordials icy cold and yet miraculously could serve up a cup of cha piping hot several hours into the journey.
It was apparent that that our father didn't know either as when called upon to explain (his primary function aside from being guardian of the remote) he said that it didn't matter how it happened, not to look a gift horse in the mouth and that I should just be happy that everything didn't come out lukewarm.
We never did get told how a thermos worked and so, for many years, was none the wiser –but we do know that when we first saw bodystockings our minds were thrown back to those road trips in the back of a Ford Cortina.
Le Beau bodystockings are undoubtedly the thermos of the lingerie world – they always manage to get the absolute best out of what's inside. It may be convoluted but it's also undeniably true.
What they offer is a tantalizing glimpse of what lies beneath, providing the possibility of discovery and experimentation. They hide imperfections, real and imaginary, and allow women the opportunity to display their bodies in a way that is still semi-clothed and is, as a result, less intimidating. As a result they feel freer and less inhibited than in many other forms of revealing lingerie.
Bodystockings at Le Beau have been specifically chosen because they provide the dual function of minimizing what we may not like about our body while at the same time making the most of what God gave us. And no matter how much we like or how much we think we are been blessed with, slipping into one of those Le Beau bodystockings will make people look and feel like the greatest thing on earth.
And there lies the other part of their allure: making us feel good.
The psychology behind it is really rather simple: if welook sexy, we feel sexy and if we feel sexy, then we sure as hell look sexy.
The range of bodystockings from Le Beau lingerie guarantees the latest design of sexy lingerie and bodystockings on the UK market today, all accessible at a click of a button.
The variety and versatility of so many designs, able to be worn alone or as part of part of an ensemble means the sensual possibilities are practically endless.
Add to that the simple sizing choices available (meaning that one size really does fit all) so whether a beanpole or a butterbean girls will definitely be able to find a little something that ignites their imagination.
They're waiting for the UK's orders so go take a look.
I guarantee that there'll be nothing lukewarm about the evening.
###