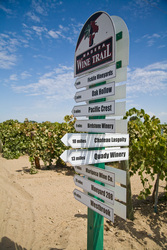 USA Wine Producer of the Year
Madera, CA (Vocus) July 13, 2010
Madera County is known as California's Gateway to Yosemite, as it's the most popular entry in to Yosemite National Park. What many people don't know is that many wines of exceptional quality that are produced here.
According to Allyson Robison, the many vintners in Madera County have years of experience. "Madera County has a long tradition producing wine and is one of the oldest grape growing regions in America," she said. "As early as the late 1800's, settlers homesteaded small farms and planted grapes to produce wine."
The newest winery along the trail is Idle Hour Winery in Oakhurst. Opened in 2008, proprietors Ana Marie dos Remedios and Deb Payne have won numerous awards for their varieties. They won a pair of gold medals during the 2010 San Francisco Chronicle Competition for the 2007 Tempranillo and 2006 Petite Syrah.
Dos Remedios, who is also the current president of the Madera Vintners Association, said Madera County's climate is well suited for growing quality grapes, which become quality wines. "I believe Madera County's climate can grow Rhone varieties especially well because the climate, especially during the ripening period, is very similar to that of the Rhone Valley in France where these varieties originate," she said.
Ray Krause, who along with his wife Tammy own Westbrook Wine Farm just down the road from Idle Hour in O'Neals, said the region's temperate climate and weather patterns are ideal for his purposes. "The O'Neals area places within Growing Region III on the UC Davis Winkler scale of heat summations," he said.
"This, and an average 26 inches of rainfall tells us that the weather will complement the cultivation of Red Bordeaux wine grapes. Further supporting our decision to plant in O'Neals are the combined existence of water, granitic soils, altitude, sun orientation, air drainage, chilling days during the dormant period and a close proximity to our Grandchildren and a net effective marketing area of over one million people. It doesn't get any better than this."
Westbrook Wine Farm also meets Madera County's gold standard when it comes to wines, as his 2007 Petite Syrah at the 2010 Orange County Fair Wine Competition.
Mariposa Wine Company, located in the fertile farmlands of western Madera County, has earned a lot of gold this year as well. Their 2007 Cru Pinot Noir 'Vineyard Montage' took gold at the 2010 Dallas Morning News Wine Competition. Their 2006 Carmichael 'Sa Vini' also took gold at the 2010 Grand Harvest Awards and the 2010 Monterey Wine Competition. They took two more gold medals at the 2010 Houston Livestock Show and Rodeo Wine Competition, one for their 2007 Cru Pinot Noir 'Vineyard Montage' and the 2007 Yosemite View Cabernet Sauvignon. Another gold medal was won by the 2007 Cru Chardonnay 'Vineyard Montage' at the San Francisco Chronicle Wine Competition.
Quady Winery, known well for numerous desert varieties among others, and was named last November as the "USA Wine Producer of the Year" at the International Wine and Spirits Competition and has continued to earn high praise this year. Quady's 2008 Essensia took gold at the 2010 Critics Challenge International Wine Competition. That same wine also took the gold and was named a best buy at the 2010 World Wine Championships and the 2010 Lone Star International Wine Competition. The 2008 Essensia also took platinum at the 2010 Monterey Wine Competition.
Also popular is their Elysium. The 2007 vintage won gold at the 2010 Denver International Wine Competition, with the 2008 earning double gold at the 2010 San Francisco Chronicle Wine Competition. Other winners this year include their Starboard Batch 88 and, the Vya-Dry and Vya Sweet, which both earned double gold at the 2010 San Francisco International Wine Competition.
Wine enthusiasts looking to experience these award winning wines themselves can tour the Madera Wine Trail, which is comprised of eight wineries throughout the county. The Madera Wine Trail hosts three Wine Trail Weekends each year, but most of the wineries are open for tasting outside of those events as well.
To learn more about the wine trail, visit http://www.maderawinetrail.com.
Director of Media
Jarrod Lyman
Yosemite Sierra Visitors Bureau
(559) 683-4636
###