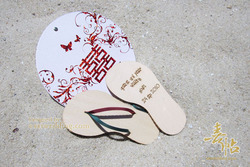 It is indeed a gift. A gift to invite your guests to your wonderful beach wedding.
New York, NY (PRWEB) July 14, 2010
More brides and grooms are considering having a beach wedding nowadays. A beach themed wedding is a unique one. It can also fit people who love the sun and beach. Couples can enjoy the sunshine with the guests. Everyone is going to run on the beach with the barefoot.
It is true that the wedding invitations will set the tone of a wedding. As a result, choosing the right invitation can be an important job when couples are planning for the beach wedding. It will be essential to find a wedding card design which will match the idea of sun and beach. It is not really difficult to find a card which bears the idea of a beach wedding.
Although there are quite a number of choices when it comes to the beach wedding invitations, most of that are still an invitation card. They may not meet the needs of brides and grooms who want to get something truly unique.
In view of this, 983wedding, a creative company which specialized in wedding invitation design, has created a totally new beach wedding invitation which will meet the need of couples who want something different. It is in the form of a pair of flip-flops which is beautifully placed in a paper box. Inside the box, it is a print of the sea with modeling sand to mimic the idea of a beach.
As put by Jerry Leung, the chief designer of 983wedding, "Instead of creating a piece of card, we give a 3-dimensional quality to the invitation". This is why the new design is so unique. Leung continues, "It is indeed a gift. A gift to invite your guests to your wonderful beach wedding."
It is very true that this new design is more than merely a wedding invitation. It is really a gift the guests will value. In fact, this new design give the invitation another layer of meaning. By seeding the flip-flops and the beach, guests will already know that it is going to be a beach wedding.
Couples who are planning to use this new design will also have to consider a few practical issues. Since it is not a normal printed wedding invitations, it will usually take some time before it can be finished. As a result, couples will need to order them early. If couples can do so, there will be no doubt that this invitation will surprise the guests. The guests will be looking forward to attending the wedding!
For more information, contact: http://www.983wedding.com/
###