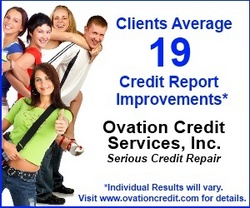 As the economy continues to recover, credit scores will be more important than ever. Now is the time to resolve credit reporting issues and to incorporate healthy credit habits
Jacksonville, FL (PRWEB) July 15, 2010
Ovation Credit Services, Inc., a leading credit repair company, is urging people to begin addressing their poor credit scores now in response to the stricter lending guidelines and increased financing costs that consumers are facing as the economy continues to recover.
"As the economy continues to recover, credit scores will be more important than ever. Now is the time to resolve credit reporting issues and to incorporate healthy credit habits," said Ovation President Terry Cordell. "Banks will start lending again, but the standards consumers will need to meet to qualify will be high. In the past, consumers with low credit scores could still qualify for financing, just at higher rates. Moving forward, getting approved will be more difficult and individuals may not even be considered without a decent credit score."
Ovation works one-on-one with clients to repair bad credit by resolving inaccurate items on their credit reports that cause credit scores to plummet. In addition, Ovation consultants work with clients to educate them about healthy credit habits. Over the long term, educated consumers with accurate credit reports stand the best chance of maintaining higher credit scores.
"By offering our clients affordable credit repair services, they can take advantage of the opportunity to fix credit report scores without having to pay a fortune or deal with the inconvenience of doing it themselves," said Cordell. "If individuals take action now, their credit scores may be in good shape by the time the economy fully turns around and that will likely result in better financing opportunities."
Beware of quick fixes and credit repair promises that sound to good to be true. Also, never pay in advance for credit repair services. If you choose to work with a credit repair company, always check the company's BBB report.
###