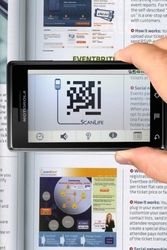 By the end of 2010, it is expected that over 10 million devices will have the BIDI app installed across the different operators.
New York, NY (PRWEB) July 15, 2010
Scanbuy, Inc., the global leader in mobile barcode solutions, announced that it has launched commercial operations in Spain, bringing a complete mobile barcode service to marketers and media publishers in that country. The service, locally known as BIDI, has been launched in partnership with all three leading operators, Movistar, Vodafone, and Orange. The operators are already pre-loading the mobile application into millions of new phones making it the most widely deployed 2D barcode application in the world outside of Japan.
Two-dimensional (2D) barcodes are used by a business or enterprise to immediately connect their audience to digital content using the camera phone. This information could include product offers, interactive video, contact information and much more. The codes can be placed on virtually any media like magazines, billboards, television, packaging, or the internet.
In 2009, Scanbuy partnered with Movistar, Vodafone and Orange to develop an interoperable service so any supported device could scan a 2D code generated from the platform. Now, the service has been commercially launched to the public and a number of top marketers are already using BIDI. Scanbuy has also launched sales operations in Madrid to develop sales and marketing efforts. More than twenty sales partners will also offer the BIDI service to different industry sectors.
"The current conditions in Spain are right for the proliferation of BIDI codes. Over 25% of mobile users already have flat rate data, the use of camera phones is widespread, and the application is already available across different phone types" said Agustin Calvo, Scanbuy's Country Manager in Spain. "We have worked with numerous partners who are already using BIDIs in their campaigns and we are trying to push the Spanish market in order to ensure that the BIDI application is available for the majority of mobile phone users."
The BIDI app, known as ScanLife in other regions like North America, is now compatible with more than 340 handset models from leading mobile phones manufacturers. It is being pre-loaded on many of these, giving the user immediate access to the technology. By the end of 2010, it is expected that over 10 million devices will have the BIDI app installed across the different operators.
Business users can create, manage, and track their 2D codes using the BIDI Code Management Platform (http://www.bidi.es). The integrated system provides valuable performance data that includes number of scans, unique users, location, handset type and more. This gives publishers critical information on how users are interacting with their traditional media.
About Scanbuy, Inc.
Scanbuy is the leading global provider of mobile barcode solutions that use the camera phone as the link between the physical world and the digital world. The ScanLife solution consists of a widely available mobile application and a Code Management Platform. The technology has been successfully deployed and supported by leading mobile providers and handset manufacturers in North America, Latin America and Europe. Media companies and marketers use the solution to create and manage measurable barcode campaigns, extending brand engagement onto mobile devices.
Scanbuy has the largest and oldest patent portfolio of any company in the industry, with over 30 patents granted covering the entire solution. The company's investors include Motorola Ventures, Hudson Ventures, Masthead Venture Partners, and Longworth Venture Partners.
For more information on Scanbuy, please visit http://www.scanbuy.com or http://www.scanlife.com.
###