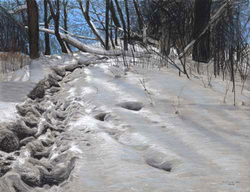 "This is a virtuoso work..," said Peter Trippi, editor of Fine Arts Connoisseur Magazine, about Linda's painting, "Treehaven #2." He juried the 2010 Visual Arts Center National Exhibition in which Linda won the Excellence Award for her painting.
Rocky River, OH (PRWEB) July 16, 2010
Only days after being highlighted in a French arts publication for her mastery of the pastel art, Linda Gross Brown received one of the most important honors in the pastel world: inclusion in the International Association of Pastel Societies (IAPS) Master Circle.
Linda has earned this honor because she continues to create consistently impressive and masterful paintings that have been exhibited and even featured on the catalog cover in IAPS exhibitions. She can now proudly follow her name with the letters "IAPS MC" as she joins an exclusive group of artists who have proven themselves masters in this pastel medium.
The treasured IAPS golden medallion signifying her membership in the Master Circle will be awarded to her in a very special banquet in the spring of 2011. She will no doubt be identified with this honor constantly, as she participates in juried exhibitions and shows throughout the United States in 2010.
Today, as the Pleiades Gallery 28th Annual Juried Show (juried by M. Stephen Doherty, editor-in-chief of American Artist Magazine) begins and features her painting, "Footsteps #3," in New York City's Chelsea district, she will proudly be accepting handshakes and congratulations from those people in the pastel world who know just how important that honor is.
###