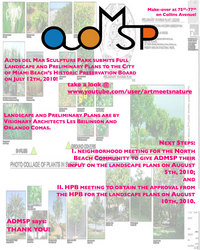 With the submittal to the HPB of the Landscape and Preliminary Plans, we are now at our next step in our journey to make this dream come true
Miami Beach, FL (Vocus) July 15, 2010
The City of Miami Beach's Historic Preservation Board on July 12, 2010 received Altos Del Mar Sculpture Park's (ADMSP) Landscape and Preliminary Plans.
Miami Beach's City Manager, Jorge M. Gonzalez, approved the preliminary plans on May 13, 2010 after review with all of the pertinent city staff. See http://www.youtube.com/watch?v=opF4zQozSgA
"With the submittal to the HPB of the Landscape and Preliminary Plans, we are now at our next step in our journey to make this dream come true", said Marlene Saile, Esq, President and CEO of ADMSP.
With this submittal, ADMSP has included full landscape design plans that were created by Orlando Comas A.S.L.A., Landscape Architect.
The next steps are: 1. A neighborhoods meeting for the North Beach Community to give us their input on the landscape plans on August 5th, 2010; and 2. A HPB meeting to obtain the approval from the HPB of the landscape plans on August 10th, 2010.
"ADMSP would like to thank Jorge M. Gonzalez, the City Staff, the members of the HPB, Les Beilinson, Orlando Comas and everyone else involved for all of your priceless contributions to the collective effort to achieve yet another milestone in ADMSP's development towards achieving its mission", said Peter Saile chairman of ADMSP.
About ADMSP:
ADMSP will build the first sculpture park of its kind in the world, as it will feature:

Free changing exhibitions of sculpture from established artists from the 19th, 20th, and 21st centuries.
Free community art classes, fitness and entertainment.
Free social services to the under-served community and financial support to other local charities that provide social services.
365 days per year in the North Beach section of Miami Beach.
ADMSP will transform North Beach into a community, cultural, tourism and travel destination elevating the quality of life and economy for all.
Since its inception in 2004, ADMSP has been creating the environmental conditions that will lead to better social and economic circumstances in North Beach with its mission to build a place that although at first glance is a landscaped gallery space, upon further inspection it reveals itself as an important community installation with cultural, social and economic implications that extend well beyond the sculptures and the traditional museum audiences- for everyone.
In the book The Tipping Point, Malcolm Gladwell postulates the "Power of Context" in that "Epidemics are sensitive to the conditions and circumstances of the times and places in which they occur" and how they lead to social, cultural, community transformations that are positive in nature.
The ADMSP project is the perfect opportunity to observe the transformation of an impoverished and crime-ridden community, by changing the social landscape of North Beach in Miami Beach, into a thriving community rich with community and social programs.
ADMSP is set to open on November 15, 2011.
For more information on Altos Del Mar Sculpture Park, its mission, and services please visit http://www.altosdelmarsculpturepark.com and join our social network at http://www.admsp.org.
Contact
Marlene Saile, Esq.
Media Relations Officer
lenah (at) linklingpublic (dot) org
http://www.linkingpublic.org
###