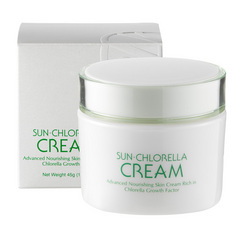 Sun Chlorella Cream is the latest addition to our detoxifying, nutrient-rich system that reflects a 'beauty from the inside out' approach.
Torrance, CA (PRWEB) July 15, 2010
Consumers realizing the relationship between maintaining a healthy diet and healthy skin now have a new option with the launch of a superfood-based beauty cream. Sun Chlorella USA, a leading developer and manufacturer of chlorella green food products, announced today the availability of paraben-free Sun Chlorella Cream®, the only topical cream that contains concentrated chlorella extract as its principal ingredient.
Traditionally consumed for its impressive nutritional content, chlorella is a fresh-water algae that's widely popular in Japan, a country known for its long life expectancy and overall good health. Chlorella's skin-enhancing nutrients include age-fighting antioxidants, the highest amount of detoxifying chlorophyll of any known substance and Chlorella Growth Factor, a complex rich in nucleic acids critical for cellular growth, renewal and repair. In addition to its key, active ingredient, Sun Chlorella Cream is also formulated with a purified water base, several botanical extracts and is paraben- and propylene glycol-free.
"Given that chlorella is a nutrient-dense whole food that protects and purifies at the cellular level, I recommend Sun Chlorella Cream for anyone looking for a deeply moisturizing, anti-aging and naturally restorative skin treatment," says osteopathic dermatologist Dr. Andrew Racette.
Racette noted that because of Chlorella Growth Factor's cell-rejuvenating properties, he wasn't surprised that in a recent consumer trial, daily use of Sun Chlorella Cream showed visibly smoother and firmer skin after 60 days.
"Sun Chlorella Cream is the latest addition to our detoxifying, nutrient-rich system that reflects a 'beauty from the inside out' approach," says Rose J. Straub, Sun Chlorella USA vice president and chief operating officer. "Sun Chlorella Tablets, Sun Eleuthero Tea and liquid supplements including Wakasa Gold provide crucial internal detoxification and cellular support. Now, paraben-free Sun Chlorella Cream gives consumers a topical option to provide the body's largest organ with essential nutrients."
Consumers interested in this skin-nourishing product can visit http://www.DoesYourSkinEatRight.com to receive a free two-week supply of Sun Chlorella Cream, while supplies last.
About Sun Chlorella USA:
Sun Chlorella USA is a privately owned developer and manufacturer of premium chlorella products. Sun Chlorella Corp. holds the patent on the DYNO®-Mill pulverization processing technique, setting its chlorella offerings apart from all others on the market in terms of purity and digestibility. For more information about Sun Chlorella's line of superior products, visit http://www.sunchlorellausa.com.
# # #