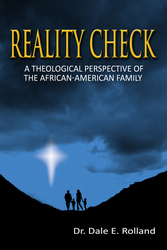 Pittsburgh, PA (Vocus) July 16, 2010
Reality Check: A Theological Perspective of the African-American Family is a fresh examination of the African-American family. Readers from all cultures will benefit from the truths presented in this book, which are unique to all human families.
Dr. Dale Rolland demonstrates through precise biblical interpretation and common sense why examining the family from a theological perspective is the only practical basis for critical reflection/analysis. This reflection will produce positive and practical methodologies that restore the strength and influence of the African-American family on the African-American culture and on the American society as a whole.
About the Author
Dr. Dale E. Rolland is the founder/senior pastor of the Concord Community Baptist Church in Tulsa, Oklahoma. His major growth came in his twenty years as a minister of youth work, minister of men's work, co-coordinator of Senior Adult Ministry, and case manager in a juvenile detention center.
Dr. Rolland and his wife, Rubie, have been married for twenty-one years as a blended family with their three now adult children. He received his bachelor of arts in religion and philosophy from Bishop College in Dallas, Texas. Phillips Theological Seminary in Tulsa, Oklahoma, referred upon him his masters of theological studies and religious education and his doctor of divinity: The Practice of Ministry. He is also the author of The Journey of Life Thus Far and Practical Handbook for Youth Ministry.

RoseDog Books is pleased to announce the publication of Reality Check: A Theological Perspective of the African-American Family ($16.00) ISBN: 978-1-4349-9830-9, paperback. For more information, please contact RoseDog Books, at 701 Smithfield Street, Pittsburgh, PA 15222. To place a book order or to learn important information about shipping prices, tax, and our return policy, please call (800) 834-1803.
###