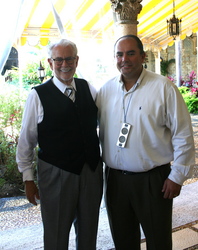 Miami, FL (PRWEB) July 17, 2010
Feng Shui Expert Practitioner and Analyst Angel de Para and his team of students announce the second successful case study visit by Angel, Executive Members of his team and Earth Luck students at the legendary Mar-a-Lago in Palm Beach, Florida.
For the second time this year, Angel and his two teams were personally escorted by the Mar-a-Lago house historian who shared a vivid illustration with the group about the majestic home currently owned by Donald Trump, originally owned and designed by heiress Marjorie Merriweather Post of the Post/General Foods Company empire and E.F. Hutton. Their host was not only the personal Butler of Mr. Donald Trump but was also a footman of the late Mrs. Post until her demise. Although now retired for about a year, he regaled everyone with stories from the years he worked at Mar-a-Lago under the employ of Post and Trump during the past 60 years.
In an effort to support and document scientific findings by Feng Shui Expert Angel de Para and his group of long time advanced students, the group was recently allowed this second visit to establish and document more field study findings with regard to the success of and historic events surrounding this estate, its owners and benefactors.
This is just one more of dozens of other field studies conducted by Earth Luck International under the leadership of Angel de Para to support by the collection of evidence and reports of field study findings establishing the accuracy and scientific nature of Authentic Classical Feng Shui.
Angel de Para, with his team, will be conducting similar case studies in New York City later this year with an impressive number of future projects to follow.
# # #