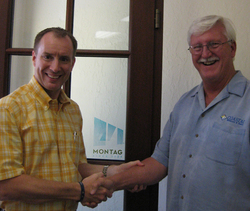 Roswell, GA (PRWEB) July 18, 2010
German ultra-luxury residential window manufacturer Montag Windows & Doors has announced that Coastal Windows & Doors, LLC. of West Palm Beach, Fla., has joined the Montag Dealer Network Alliance. Coastal Windows and Doors has been selected as the exclusive provider of Montag products in the West Palm Beach area.
"Florida is a strong market for our products, and we wanted to find a partner who understands both our products and our clientele," says Mitch Lewandowski, Montag's Managing Director. "Coastal Windows and Doors, has a great team that really understands their local market, as well as, the ability to meet the needs of a typical Montag client. We welcome the Coastal team to our family and we look forward to many years of partnership."
Coastal Windows & Doors will have a dedicated Montag showroom at 8300 Resource Drive in West Palm Beach. The new addition is expected to be complete in October 2010.
"Montag offers our clients an ultra-luxury residential product that meets the tough performance standards of South Florida. Our team is extremely excited about being part of the Montag team," says Jim Fullwood, president of Coastal Windows and Doors.
In joining the Montag Dealer Network Alliance (DNA), Coastal Windows and Doors joins an exclusive network of dealers who represent the Montag brand. As Montag expands its U.S. presence, it is teaming with some of the country's most elite window and door dealers to bring the Montag portfolio of products to the ultra-luxury residential market. Members of the Montag network work closely with Montag to deliver the superior products and high level of service for which the company has been known for almost 300 years.
For additional information, call 561-842-7000 or email Coastal Windows and Doors at: raskew (at) coastalwindowsanddoors (dot) com.
About Montag Windows & Doors
Founded in the southern German village of Biberach in 1728, Montag Windows & Doors crafts superior windows and doors for its most discerning group of clients. From its humble beginnings in a small workshop, to its present-day state-of-the-art fabrication facility, Montag has preserved its nearly three century tradition of master craftsmanship in the creation of the finest high performance luxury windows and doors available in the marketplace.
As part of its international expansion, Montag Windows & Doors also operates its U.S. marketing and distribution facility in Roswell, Georgia. From this location, Montag is equipped to meet the needs of architects, builders, developers and homeowners throughout the Americas. For more information on Montag Windows & Doors, please visit http://www.montagwindows.com or call 866-562-1728 ext 701.
###